300+ Appartementen te Huur
Wonderful new place near APG, quiet and safe. Lovely host
Bob
2017-03-02T00:00:00Z
I felt very welcome, the place was very clean and spacious, and the bed was very comfortable (sleep number bed). The location was fantastic, very convenient.
Chou
2016-12-07T00:00:00Z
Recommended
Mark
2017-03-07T00:00:00Z
Thank you again for a very enjoyable stay.
Chou
2017-02-09T00:00:00Z
Enjoyed my stay! Thank you!
Chou
2016-12-22T00:00:00Z
Really nice condo on the 3rd floor with private entry to the building and an elevator to help you up to the top. Very quiet environment. I was barely there, as I was galavanting around, but was a convenient place to return to to rest afterwards.
Jessica
2016-12-18T00:00:00Z
Very nice room on the 3rd story of a brand new Condo. Gracious host and private bathroom. Will return.
Bob
2016-12-20T00:00:00Z
I booked this room for my son and he said it was very nice. He would stay there again if needed.
Jamie
2017-01-01T00:00:00Z
Kamertype
Privé Kamer
---
Type woning
Appartement
---
Geschikt voor
2
---
Slaapkamers
Aberdeen, Maryland, Verenigde Staten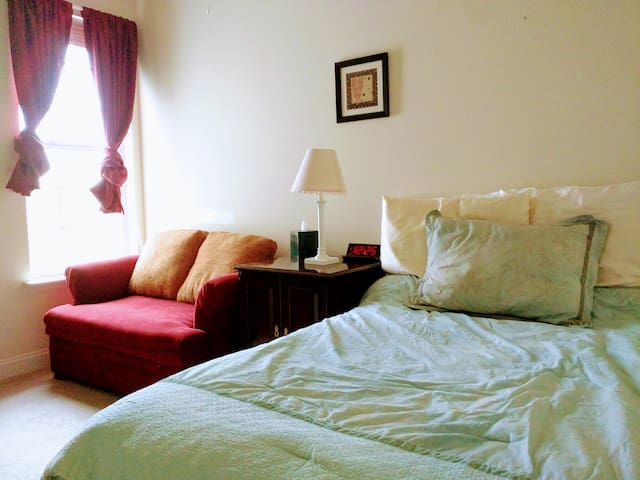 Kamertype
Privé Kamer
---
Type woning
Appartement
---
Geschikt voor
1
---
Slaapkamers
Bel Air, Maryland, Verenigde Staten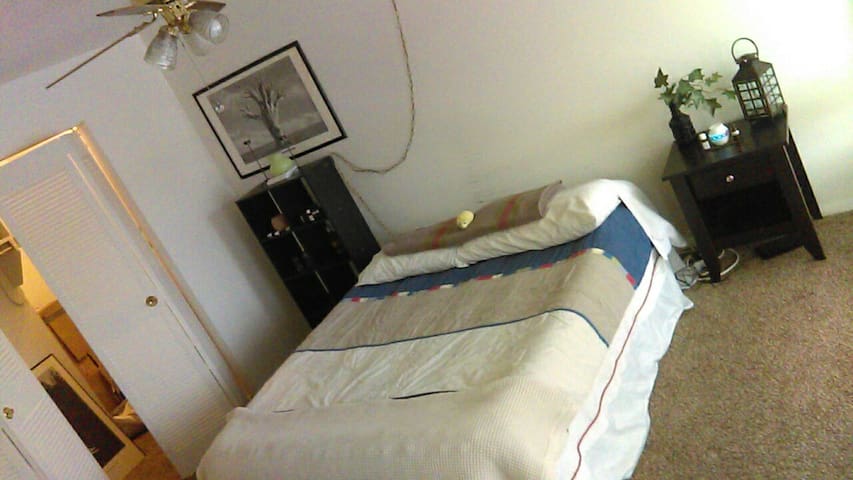 It was a nice stay. Best place stay in Aberdeen area...
Varun
2017-02-15T00:00:00Z
Great place to stay! I will be back!
Payten
2017-03-15T00:00:00Z
The master bedroom has its own bathroom and there is a door that seperates the masterbedroom and bathroom from the rest of the house, so the master bedroom is basically the same experience as a hotel.
Billy
2016-12-19T00:00:00Z
Kamertype
Privé Kamer
---
Type woning
Appartement
---
Geschikt voor
2
---
Slaapkamers
Aberdeen, Maryland, Verenigde Staten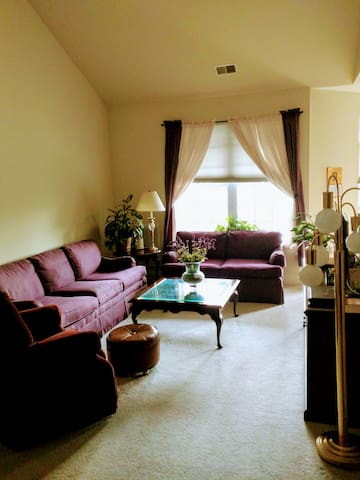 Kamertype
Privé Kamer
---
Type woning
Appartement
---
Geschikt voor
2
---
Slaapkamers
Bel Air, Maryland, Verenigde Staten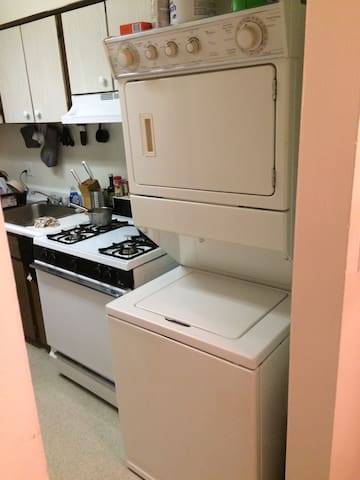 Host was very accommodating and allowed me to stop by to check out the apartment before booking (rental was was arranged for out of state friends). Host was also flexible about key pick up and check in/checkout. Rental was very clean and convenient to downtown Bel Air. Recommend to anyone needing to stay in the Harford County/Bel Air area or willing to drive about a half hour to Baltimore. Can comfortably fit 3-4, and is fully equipped with washer/dryer and kitchenette. Highly recommended!
Jenny
2015-03-24T00:00:00Z
总体感觉很好,房子很干净,家居设施多完善,交通方便,房东人很友善,我和孩子度过了几天愉快的时光,就是晚上微微有些吵,靠马路的原因.
静
2015-01-07T00:00:00Z
The reservation was canceled 51 days before arrival. This is an automated posting.
Susan
2015-04-05T00:00:00Z
Kamertype
Privé Kamer
---
Type woning
Appartement
---
Geschikt voor
3
---
Slaapkamers
Bel Air, Maryland, Verenigde Staten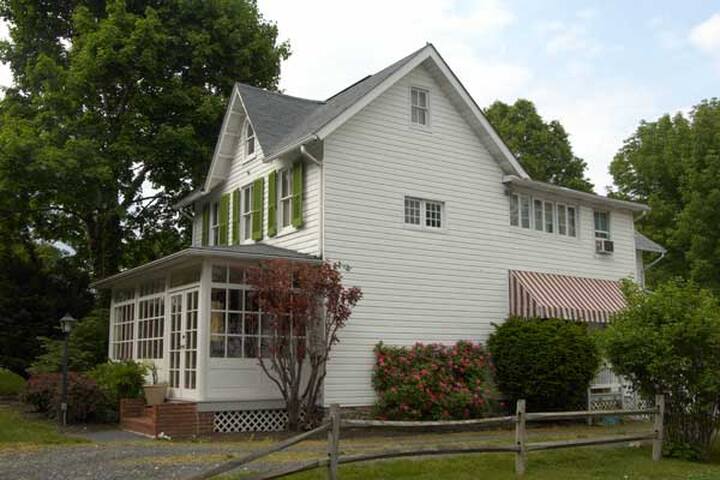 Su PRIVADO, amplio 2 dormitorios 1 cuarto de baño incluye un espacio enorme sala de estar y oficina. entrada privada de los huéspedes es la puerta de entrada, el aparcamiento está en la entrada de mi casa, y usted tiene acceso completo para envolver alrededor de porche y lavadero. Cocina no está disponible a menos que no le importa un poco de desorden y de su amar perros, ya que estará interactuando con ellos si necesita la cocina - que es muy pequeña, con sólo suficiente espacio para una persona estar en ella a la vez :)
Je vis sur l'autre côté de la maison avec mes deux cabots mannerly qui sera heureux de vous donner votre chien "fix" si vous voulez. L'appartement est séparé de la maison principale par des portes et très privé. La salle de bain est dans le couloir de la chambre indiqué dans l'image principale. Et vous entrerez dans l'autre côté de la maison pour accéder à la salle de bains. L'entrée privée est la porte d'entrée montré dans mon tableau. J'ai récemment fini mon câble mais j'ai bon wifi et vous êtes invités à brancher votre ordinateur sur mon téléviseur (pas une smart TV.) Beaucoup de DVD sont disponibles ainsi qu'un lecteur DVD. Vous êtes à seulement 10 minutes à pied des restaurants, des bars, des magasins à Towson, ainsi que le centre commercial Towsontown. Aussi à quelques minutes est l'Hôpital St. Joseph, GBMC, Université Towson, Loyola, Goucher College, Pimlico, Maryland State Fairgrounds, MTA - rail léger, et bien d'autres attractions. Downtown Baltimore est à environ 20 minutes en voiture. Ravens Stadium, Camden Yards sont de 20 minutes en voiture ou sauter sur le train léger que vous pouvez obtenir à travers les transports en commun.
Casa está en una tranquila calle sin salida. Es un exclusivo barrio de viviendas unifamiliares.
This was a perfect neighborhood stay for us, close to things in Towson and Baltimore MD Robyn left us clear communications and we felt completely at home. We had plenty of room with our daughter to cozy up in a living space as well as two bedrooms for sleeping. Robyn made us feel as if we were (URL HIDDEN) did her dogs Cami and Neco...we LOVE that the dogs were so affectionate as well as so well trained! (we love dogs...if you are not inclined to interact, that's also fine :)) Robyn was always available if we needed something or had questions...a busy woman that responded to texts quickly ~ A great down to earth spacious stay~
Joyce
2016-05-20T00:00:00Z
Was very friendly and nice as can be from the moment I arrived. The location was great, really could walk or even take a bike to so much around town. Anytime I had questions or just needed anything Robyn was always willing to help out how ever she could. The space provided is huge and the bed was so comfy. She has two sweet as can be dogs although Neko was my favorite.
Brian
2015-12-02T00:00:00Z
Robyn was welcoming and unobtrusive. The dogs are real sweeties and the bed was soft. Would love to stay next time we're in B'town.
Peter & Gina
2016-05-02T00:00:00Z
Robyn was an amazing host. We were having issues with a previous host and Robyn was flexible enough to allow us to book on the same day and accommodate our needs with just a few hours ahead of time. The listing was exactly as describe and Robyn's personality is just as welcoming as her listing. Overall my team and I had a great stay in her place while on a very stressful business conference. In addition to having a great place, Robyn was also great entertaining us and our experience with her truly made up for the bad situation we were in from our previous host. I will highly recommend booking with Robyn if you are looking into a fun and happy time in Baltimore WM.
Hector
2015-11-16T00:00:00Z
Robyn was an absolutely wonderful host! Communication was swift and flexibility was appreciated. The space was very clean and special touches such as complementary snacks and coffee pods were present. She was extra attentive as to provide a whiffle ball and bat to my husband and son when she saw them outside having a catch. Also provided a jacket to me since the colder whether caught us by surprise! We couldn't have asked for a better experience! Thank you!!!
Jennifer & Jeffrey
2016-03-15T00:00:00Z
Right from the start, we appreciated Robyn's flexibility in working with us in regards to our late arrival at midnight the first night. Communication was prompt and easy. The space is very large, inviting, comfortable, and clean. We saw Robyn briefly, and she gave us plenty of privacy. Her dogs are polite and we quickly came to look forward to our interactions with them, even though we are normally cat people. While we didn't use the kitchen, if we had wanted to cook, we wouldn't have hesitated. We would return to this Airbnb in a heartbeat.
Lisa
2016-03-25T00:00:00Z
Robyn truly had a "great space" to stay in Towson. Robyn was generous and friendly, even making sure the room was warmed up before i returned late one night. I would stay again. Thanks Robyn!
Gloria
2015-10-05T00:00:00Z
Just as described, Robyn's lovely house is located in a quiet, picturesque neighborhood that immerses one in lovely Towson. Robyn gave me lots of space and privacy, but was always available if I needed anything or had any questions. While staying at Robyn's, I chose not to have a rental car, which gave me the opportunity to walk to Towson University and into "central" Towson (both about 15 minutes' walk from Robyn's) on a daily basis. Walking was lovely, especially with the pretty spring gardens flourishing and friendly neighbors walking their dogs in the morning and evening. I highly recommend Robyn's place for a private home-away-from-home stay in Towson.
Craig
2016-05-14T00:00:00Z
Kamertype
Gehele woning/appartement
---
Type woning
Appartement
---
Geschikt voor
4
---
Slaapkamers
Towson, Maryland, Verenigde Staten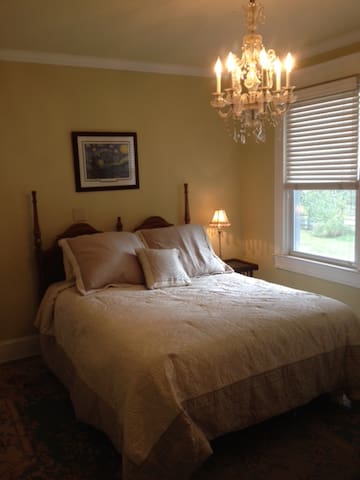 Immense appartement d'une chambre dans un excellent emplacement Towson, accessible à pied à Walmart, Target, Chipotle, Noodles and Company, PetSmart, épicerie, et plus encore! Grande si vous voulez visiter l'Université Towson ou Goucher College, et facile d'accès Baltimore à partir d'ici sans traiter l'agitation de la ville. L'appartement dispose d'une cuisine complète, appareils, nouvelle laveuse / sécheuse dans l'unité, de la chaleur réglable et A / C, et plus encore. Accès facile à toutes les autoroutes principales et Towson entreprises / centre-ville.
Il y a de la place de couchage pour quatre personnes avec un retrait futon double et un lit queen size. Il y a la télévision par câble avec HBO dans la salle de séjour et une cuisine complète avec tous les appareils / équipements nécessaires. Les clients peuvent utiliser un placard plein juste pour eux et une salle de bains privative.
Towson est une communauté amusante juste à l'extérieur de Baltimore. Accueil à plusieurs collèges, le centre commercial Towson Town Center, et plusieurs sociétés en plein essor, il est une communauté importante en soi, mais assez proche pour être dans la ville en 10 minutes environ.
Once again an outstanding stay Julia continues to make every effort to make her guest comfortable
Michael
2017-02-05T00:00:00Z
My stay was up to its usual standard of excellence! That's why I'm a repeat customer!
Michael
2017-03-05T00:00:00Z
Cozy 1 bedroom. She has two cats that were not a problem. Fully equipped kitchen and able to do laundry!
Wendy
2017-01-16T00:00:00Z
Great place- convenient to goucher college
dedra
2017-03-31T00:00:00Z
It's a very neat and warm environment. Quiet. Able to just relax in a cozy place. She is a great host and very much in touch if you need anything.
Wendy
2017-02-13T00:00:00Z
Very comfortable. She offers wonderful coffee and breakfast snacks. Great location. Private. Perfect for business trips or fun!
Wendy
2017-01-27T00:00:00Z
Apartment was as described. Very comfy beds, quiet and safe.
Celeste
2017-03-27T00:00:00Z
It is one bedroom apartment with two friendly beautiful cats. Well-equipped and very comfortable to stay and work as I have had the whole house to myslef. Julia has been exceptionally caring, she gave me breakfast and coffee and let me have snacks from kitchen too.
Zin Mar
2017-01-04T00:00:00Z
Kamertype
Gehele woning/appartement
---
Type woning
Appartement
---
Geschikt voor
4
---
Slaapkamers
Towson, Maryland, Verenigde Staten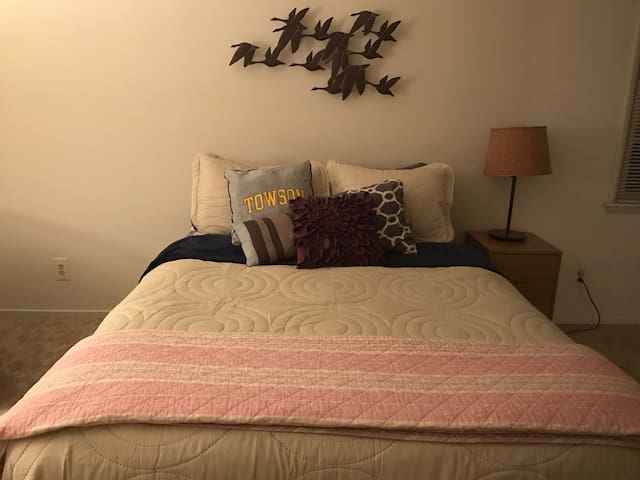 Towson er en universitetsby. Det har store restauranter, en høje ende indkøbscenter med designer butikker, en biograf (med en bar), og alt andet, du måske ønsker .... alle med i gåafstand!
Eleanor's place was clean and comfortable. We were surprised that there was no TV, however it actually helped make the stay that much special. We were able to get to know each other on a whole other level. I recommend this place.
La'Brenia
2017-01-02T00:00:00Z
I have nothing negative to say about our stay. My husband's only complaint was no tv, but I knew that when I booked it Eleanor was out of town, but her father checked us in and he was more than accommodating and just an extremely sweet individual all together. I will try to stay here every time I return to the area
Jessalyn
2017-03-20T00:00:00Z
Ellen's dad Deryk was our host and he is great. The place was clean and we enjoyed our short stay there. Deryk was very nice when our car broke down and he came to help us. Highly recommend this place if you are looking for a place to stay in MD.
Ehsanul
2017-03-19T00:00:00Z
Large space and very clean. Great host
Marco
2017-01-17T00:00:00Z
This was as advertised - clean comfortable and welcoming. Everything was as described, and the apartment was superbly placed for what I had to deal with in Towson. Will definitely stay again the next time I'm here.
Deryk
2016-09-30T00:00:00Z
I was in town with the family for a night. Between Eleanor and Deryk they made the stay a pleasant one. It's a quaint, quiet little apartment. We had the place to ourselves on this occasion. It's a cozy little place and they provided a lot for our short stay. Communication was great and there were no problems with our stay. Close to stores and the heart of Towson. About 15-20mins from downtown Baltimore.
Lowell
2017-02-15T00:00:00Z
A comfy cozy, yet large apartment. Great kitchen and bathrooms. Almost perfect. Wifi weak in main bedroom would be the only issue we had. Thanks so much Eleanor! We had a great time.
Chloe
2017-01-14T00:00:00Z
Kamertype
Gehele woning/appartement
---
Type woning
Appartement
---
Geschikt voor
5
---
Slaapkamers
Towson, Maryland, Verenigde Staten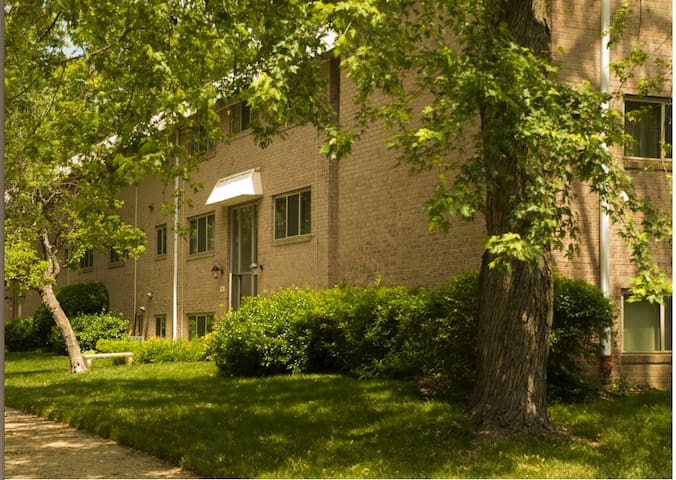 Kamertype
Gehele woning/appartement
---
Type woning
Appartement
---
Geschikt voor
2
---
Slaapkamers
Towson, Maryland, Verenigde Staten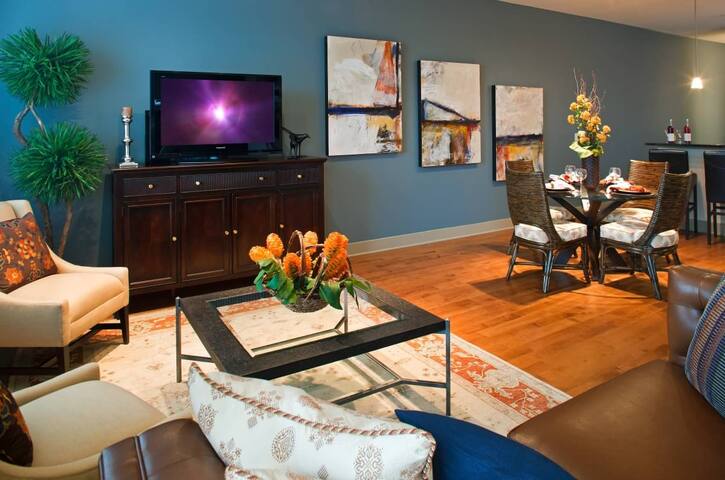 In Baltimore für ein Sportereignis oder ein College oder Krankenhaus zu besuchen? Warum in einem Hotel bleiben, wenn Sie in diesem großen in-law-Wohnung mit voll ausgestatteter Küche bleiben. Großes Schlafzimmer mit Doppelbett und ausziehbarem Schlafsofa. Nur 25 Minuten zum Inner Harbor.
Dieser Keller wurde zu einem in-law Wohnung gedreht in und hat ca. 1000 sq ft von privaten Wohnraum. Die Gäste verfügen über einen eigenen Eingang im hinteren Teil des Anwesens.
Die Wohnung befindet sich in einem ruhigen Viertel ca. 1 Meile vom Honeygo Dorfzentrum entfernt, die einen Dunkin Donuts, Weis Supermarkt, U-Bahn, Anytime Fitness Gym, Honeygo Wine & Spirits und einige andere Einzelhandelsunternehmen hat. Es ist auch die Heimat Libs Grill, die im Jahr 2015 Best New Restaurant in Maryland gewählt wurde und stimmten Maryland Favorite Restaurant im Jahr 2016 (und glauben Sie mir, das Essen ist unglaublich). Sie sind auch etwa 10 Minuten Fahrt vom White Marsh Mall, The Avenue, Lowes Theaters, Target, Lowes und anderen großen Box speichert. Springen Sie auf I95 Süden und Sie werden in 25 Minuten und Washington DC in 1 Stunde in Baltimore City & Inner Harbor sein. Oder fahren Sie nach Norden auf I95 und in 2 Stunden in Philadelphia und New York City in etwas mehr als 3 Stunden.
Myself and two coworkers had a great time staying at John's place. After the craziness of our days at a work expo it was nice to come back to a relaxing environment to decompress. The bed and linens were incredibly comfortable and the apartment was beautifully decorated. We had a few spider visitors during our stay but it is a basement apartment so that is to be expected. I had no problem shooing them outside. The only thing I would hope to see added to the apartment if we stayed again is more kitchenware to make cooking at home a little easier. I would highly recommend John's apartment to anyone staying in the Baltimore area and would definitely stay there again!
Morgan
2016-09-24T00:00:00Z
Really great place in a great location. Was able to visit with my in-laws as they stayed nearby. John was accessible and a great host!
Sean
2016-08-22T00:00:00Z
The host canceled this reservation 10 days before arrival. This is an automated posting.
Logan
2016-06-24T00:00:00Z
The apartment is located in a quiet, leafy cul-de-sac below a family home. It was entirely as specified and more. While we didn't have a lot of physical contact with John, that was because we all lead busy lives, and we spent a lot of time outside. John responds really quickly to any messages sent via Airbnb, and provided a couple items which were lacking upon our arrival. His immense flexibility really helped us enjoy our time more, and we can't wait to return and stay again.
Callum
2016-05-25T00:00:00Z
Spacious but this is the basement of the host's home, we didn't realize that before we arrived. When the family is home you can hear them walking around upstairs. Everything else was as expected, clean, comfortable bed, all amenities listed, etc.
Nadina
2016-10-03T00:00:00Z
Exactly as presented. Nice place to stay. Met our needs perfectly!
Nancy
2016-06-20T00:00:00Z
wonderful
Mike
2016-05-30T00:00:00Z
John's place is Fantastic !! For short & long vacation. The apartment designed in a great harmony. It's equipped with everything you will possibly need. Large kitchen. Very large bedroom. Very large living space. Nice bathroom with tub. All very modern. Beautiful garden. John and his wife are superb hosts and gave us very welcoming feeling. His wife even made us cookies !!!! John is very responsible guy and took care of everything we needed. We had a great time and deferentially will come again.
Daniel
2016-05-14T00:00:00Z
Kamertype
Gehele woning/appartement
---
Type woning
Appartement
---
Geschikt voor
4
---
Slaapkamers
Perry Hall, Maryland, Verenigde Staten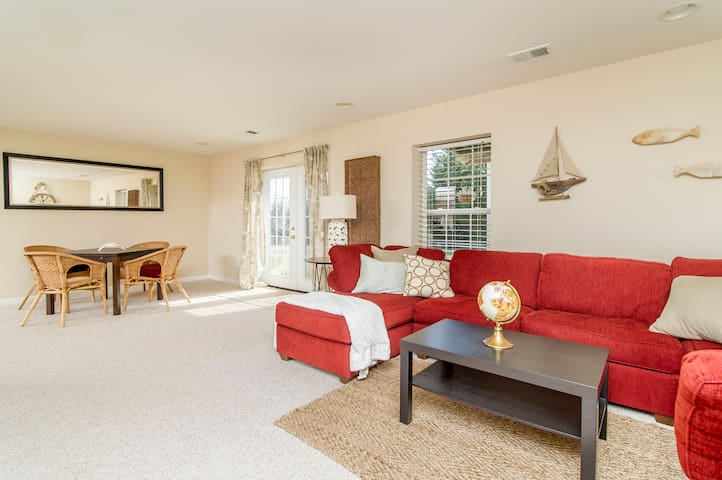 Your own studio apartment in Fells Point! We've recently converted our new home, a 19th century construction and mid 20th century Fells Point bar, into a brand new apartment, w/private street entrance, bathrm, work & living space. The apt is close to bars & restaurants, Johns Hopkins Hospital, public transport, the harbor, Patterson Park and all that downtown Baltimore has to offer. We're experienced Airbnb hosts & travelers, and renovated this apartment for Airbnb guests of all kinds!
This 500 foot studio apartment features brand new flooring, exposed brick, a brand new custom-built bathroom, wireless internet access, a kitchenette with a fridge, toaster oven, microwave, and coffee pot. In addition to the bed, we have also included a desk for laptop usage and a couch. There is also a 32 inch television and smart blu-ray player. Watch Netflix, Amazon, Hulu, and Youtube! We live in the main unit attached to the apartment, so if you need help with laundry service or just want some advice about the area, just give us a knock.
The apartment is located in Fells Point, between the waterfront area and Patterson Park. It's a quiet neighborhood that's a 5 minute walk to the action but just far enough away to avoid the noise of heavy foot traffic. We walk to many of our favorite places in Fells Point and have a list of recommendations waiting for you.
The location is great. I would consider it a very well priced stay. Easily walk to many parts of Fells Point, or to place that can get you anywhere else in the city. They obviously care about your well being and want you to have a rest stay. They have printed out some cool spots for you to visit. We were having a problem with the futon and I guess they heard us struggling and came down to give us a hand - thanks! Only complaints we had were these: The floor was pretty dirty. I think this has to do with some construction that they've got going on in the adjacent areas. There were a couple small cleanliness issues other than that, but nothing that I personally found too concerning. The water in the shower didn't get very hot, but this is me nitpicking. I did not care enough to say anything at the time, just an afterthought. Overall, I would definitely recommend this spot if you are looking for an easy to access crash pad while visiting beautiful Baltimore.
Kaden
2017-03-08T00:00:00Z
Jay & Olivia's place was fantastic. It suited our needs perfectly and Jay was very friendly and helpful when we checked in!
Joel
2017-02-26T00:00:00Z
Great little studio apartment with a ton of character. Nice neighborhood and walking distance from bars and Johns Hopkins hospital. Communication was speedy and friendly. Great value and would definitely stay again if in Baltimore.
Lyle
2017-04-06T00:00:00Z
Jay and Olivia's studio is clean, comfortable and has everything a traveler needs. The sofa bed was extremely comfortable and my friend loved the bed. Access was easy as was communication. Wifi worked well, as did the shower. Jay recommended Ale Mary for dinner and it was outstanding! The only issue was parking (on the first pleasant Saturday of spring!) but I was prepared to drive around for a few minutes. My friend and I will definitely be back!
Susan
2017-03-26T00:00:00Z
I had the pleasure of meeting both Jay and Olivia and they were both so kind and accommodating! They have a beautiful home located very close to all the great bars and restaurants in Fells Point. Everything was fantastic and I would definitely stay here again.
Madalina
2017-03-13T00:00:00Z
We had a great time! Jay & Olivia were great with communicating with us and getting back to us fast when we had questions! It's a really cool space!
Caitlin
2017-04-02T00:00:00Z
Jay and Olivia made themselves available for anything that we needed and were very responsive. They filled the studio with small details that made our trip so enjoyable!
Sam
2017-03-07T00:00:00Z
Awesome place. Very clean and private. It was an 8 minute uber to inner harbor and walkable to restaurants and bars in the neighborhood. And Jay and Olivia were great hosts! Highly recommended.
Jillian
2017-02-24T00:00:00Z
Kamertype
Gehele woning/appartement
---
Type woning
Appartement
---
Geschikt voor
4
---
Slaapkamers
Baltimore, Maryland, Verenigde Staten
Amazing rental available in Baltimore's Historic Mt. Vernon Neighborhood. Minutes from the Inner Harbor and other Baltimore Neighborhoods. Great views, free parking, and access to our pool!
Fully Furnished Apartment Home in Apartment Building. Full use of the apartment home space and all of the amenities offered on our Property. Apartment home has cable TV and a wireless internet connection for up to 3 devices. The apartment has gas appliances and centralized heating and air conditioning with individual temperature control. (Heat: October to April, AC: April to October).
Minutes from Downtown, Mt. Vernon offers historic charm to Baltimore. You are within walking distance to the Cultural Center of Baltimore with Museums and Restaurants just blocks away. Sutton Place is Far from Ordinary, yet Close to Everything.
The place was clean and spacious. Many features were in place for security and safety.
mary
2016-12-30T00:00:00Z
The place was quite lovely. perfect amount of space. It felt like a comfy hotel. i couldn't wait to get back from a long day of work to lounge in the apt. Highly recommend this place. I didn't have time to use the gym, but plan on it next time.
Victoria
2016-02-04T00:00:00Z
Great experience! Loved the place and the amenities the building provided. Totally recommend this to everyone!
Estefania
2016-12-23T00:00:00Z
Michael's place is nice and clean, with everything you'd need for a recreational or business stay. I appreciate that the apartment is so central and was close enough to the wedding I attended that I could walk.
Yeri
2017-02-20T00:00:00Z
Great location and a great price! Lots to see and do!
Rachel
2017-04-11T00:00:00Z
This apt was more than a pleasure to have stayed in. As someone who has spent 8 years living in the Bolton Hill community, I could have asked for a better location and comfort.
Shawn
2016-02-22T00:00:00Z
Great place with everything provided for. Will definitely stay again!
William
2016-11-26T00:00:00Z
Our stay at Michael's apartment was great. The room was exactly as depicted in the photos and everything was super clean and comfortable on our arrival. If anything, it was even nicer than we expected. There is a great little grocery on site and it is easy walking distance from some wonderful bars and restaurants. We came in by train and it is really convenient to Penn Station as well. We found this apartment quite a bargain and wouldn't hesitate to stay there again. Thanks for a great stay!
Michael
2017-01-19T00:00:00Z
Kamertype
Gehele woning/appartement
---
Type woning
Appartement
---
Geschikt voor
2
---
Slaapkamers
Baltimore, Maryland, Verenigde Staten
My place is close to JHU Homewood Campus, restaurants & dining, and parks. You will love its ultra-comfy memory foam mattress queen-size beds, laptop friendly work station, nice furnitures, privacy, cleanness, and great location.
Large studio apartment with private bathroom in a beautiful and spacious 3-level townhouse. The studio features queen size bed with memory foam mattress, lovely living area with smart TV, laptop-friendly work station with office chair, newly upgraded private bathroom, and kitchenette with (ONLY) microwave and mini fridge.
Our house located in a very friendly and quiet neighborhood at Charles Village. 1. 3 min walk to Johns Hopkins University/JHMI shuttle stop/public transportation 2. 10 min walk to dining, grocery and liquor stores. 2. 7 min driving to Penn Station/Baltimore Zoo/Lake Parks 3. 15 min driving to downtown/Inner Harbor/Fells Point. 4. 50 min driving/45 min MARC train ride to Washington DC.
Yang was very responsive, the apartment was as described and very conveniently located.
Mathias
2017-03-06T00:00:00Z
Yang's place is perfectly situated to explore Baltimore and the surrounding area. Check-in was a breeze and I had no problems with the apartment during my stay. Recommend.
Eric
2017-04-02T00:00:00Z
Yang's place was exactly as described. She was always available for all necessities. Her place is in an excellent neighbourhood that is near Johns Hopkins and many shops and restaurants. Would not hesitate to recommend her place!
Audrey
2017-03-08T00:00:00Z
Yang and I are old friends. I returned to Baltimore for a conference. Comfortable large room, close to Hopkins Homewood campus and hence to lots of restaurants (check out a few new ones opened lately!) and also close to the Hopkins shuttle stop. Hop on and get off at Peabody, Penn Station, medical campus, etc, easy and hassle-free. I rested well and enjoyed the stay. Would be my top choice if the room would be available!
Zhenke
2017-03-17T00:00:00Z
It was clean and had coffee which was nice!
Jessica
2017-03-31T00:00:00Z
Yang's place is very good, clean and exactly as the pictures. The place is very well located near transportation and restaurants. I certainly recommend Yang's place.
Federico
2017-03-29T00:00:00Z
Super clean. Yang very efficient in communication. But the apartment has virtually no soundproofing. Stair noise was loud. Could here tv next door as if it were in our room. Had to endure a fair amount of sex noise. And I don't even hear very well. That all ended by 9pm. So we slept fine. But, man.
Michael
2017-03-13T00:00:00Z
This unit is an excellent value! The location is truly excellent and the building and unit have great security while maintaining super easy checkin and access. Yang does a great job of communicating throughout the process and responds quickly to questions. The bed was very comfortable. I really like the small touches like a) a big bottle of water was waiting for me, b) the desk had a power strip so I could plug in my laptop, cell phone and other devices, c) the Roku TV was pretty great, and d) a nice towel. The bathroom was small - as advertised - but completely functional and clean. Having a private bath in a room at this price range made the smallness an easy trade. And, just to be clear, I've stayed at good hotels in Europe with smaller bathrooms so it was not at all a problem for me. Five stars and highly recommended. Thanks!!
Bill
2017-03-11T00:00:00Z
Kamertype
Gehele woning/appartement
---
Type woning
Appartement
---
Geschikt voor
2
---
Slaapkamers
Baltimore, Maryland, Verenigde Staten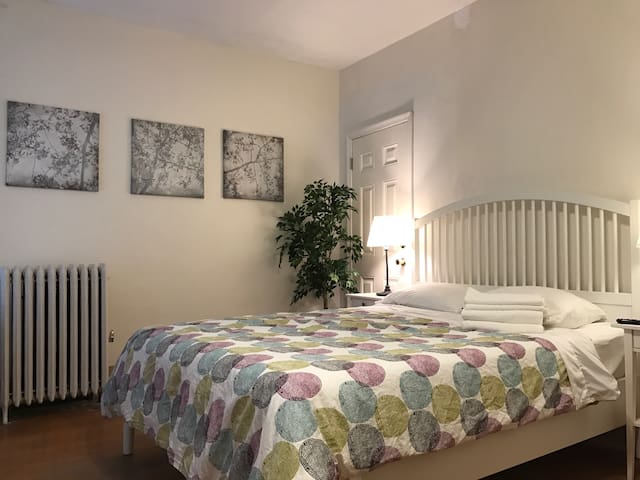 这明亮的一间卧室的2位客人靠近市中心的历史切斯特顿,华盛顿大学和苍鹭点。它是一种理想的花衣服渔村享受在马里兰州的东海岸这个历史,艺术小镇。厨房,浴室瓦特/浴缸及甲板。 非常适合参加当地一年一度的活动,客人 全国音乐节 茶党节 华盛顿大学毕业和活动 RiverArts课程与活动 Downrigging周末 摇滚霍尔铁人三项 萤火虫节和更多!
空间包括厨房/客厅组合,卧室与大号双人床。浴室配有淋浴和浴缸。与咖啡馆的桌子和椅子的户外甲板是一个不错的地方休息一个阳光灿烂的日子。 公寓配有由乔拉Studio创建的手工制作,再生木材家具。这还装饰有当地艺术家的作品。 该公寓位于交通便利的市中心切斯特敦。它是靠近华盛顿大学和切斯特水岸。它毗邻美丽的纪念公园。 一个奇妙的地方停留在马里兰州东海岸的历史,古朴的小镇周末度假。非常适合家庭,情侣,艺术家,作家,音乐家和学者。 可用于短期或长期停留。 有一个车位来。充足的街道附近的停车场。
迷人的,安静,安全的街区在历史悠久的大学城。 这是一个伟大的位置,享受许多在该地区的年度活动: 全国音乐节 茶党节 华盛顿大学毕业和活动 萤火虫节 RiverArts课程与活动 苏丹娜Downrigging周末 肯特县诗歌节 城市的品味切斯特敦 七月四日在肯特郡 江伟思特 切斯特顿爵士音乐节 切斯特顿历史徒步之旅 切斯特顿RiverArts摄影棚之旅 假日缤纷冬日节
Our host was exceptional and the apartment was even better than advertised. We could not have had a better experience.
Kirby
2016-09-27T00:00:00Z
Francesca and her mother Leslie are responsive, easy to communicate with, and certainly seem to be trying their best for their guests. In retrospect, we probably should have chosen a larger place to stay -- my wife and I have an 18-month-old son, and it felt too small for the three of us, though for one person, or probably even for two, it would be fine. There were some minor issues with ants in the kitchen, and unexpected landscaping work that caused some noise (Francesca and Leslie apologized profusely -- the work wasn't supposed to be during our stay -- and were kind to offer compensation for the disruption), but nothing terrible. The location is convenient to everything in Chestertown, the parking is easy, and while this wasn't a luxurious place to stay, it was sufficient for our needs.
Jeremy
2015-03-22T00:00:00Z
This apartment was absolutely perfect for my two visits to Chestertown. I stayed in August to move my daughter into Washington College. The apartment was the perfect size for us. Extremely clean and comfortable. We had everything we needed. I returned a month later with my son to visit for family weekend at the college. I was very happy to know I was going back to the apartment. Felt like a home away from home. We will definitely stay every time we are in Chestertown. Communication from Francesca was always helpful, warm and friendly. Unfortunately we didn't get to meet on either of my visits, but I hope we will next time!
Eden
2015-09-28T00:00:00Z
Very convenient to downtown Chestertown and Washington College. This was our second stay with Francesca. Clean and Cozy.
Carol
2017-03-25T00:00:00Z
Francesca and Leslie were wonderful hosts. They gave us great local recommendations and allowed us to extend our check out. The location is great. It's an easy walk to the coffee shops and cafes in Chestertown. The apartment is as described. We had a really nice visit.
Wendi
2015-07-20T00:00:00Z
My host was most welcoming, very pleasant and a joy to talk with. I was rarely in my room. The space was on the second floor of a converted & moldering Victorian home. My entrance was in the rear of the home off of the gravel parking space. Fairly easy access if you do not mind stairs. The back of this unit backs up to a steep hill covered with ivy, ferns and other indigenous plants and trees. The online description was technically accurate. Chestertown is small so everything was within walking distance. There was plenty of parking nearby.
Tim
2015-06-08T00:00:00Z
Francesca's apartment in quaint Chestertown was a perfect jumping off point for walking around the town and driving to local spots. The apartment was cozy and the bed was comfortable. The handmade wood pieces in the apartment were gorgeous. Francesca was super communicative, and Francesca's mom and brother were great hosts -- they even sent us on our way with fresh tomatoes and cucumbers from their garden! Great stay.
Justin and Dawn
2014-09-09T00:00:00Z
A lovely little apartment at a great price. Located on a side-street near a short walking path, it's a pleasant stroll to all of the attractions in central Chestertown. Francesca was quick to respond to all our questions, and provided basics like milk in the fridge (which we were please to have, when we arrived later than planned with a hungry toddler in tow.) We really enjoyed our stay!
Joshua
2017-02-12T00:00:00Z
Kamertype
Gehele woning/appartement
---
Type woning
Appartement
---
Geschikt voor
2
---
Slaapkamers
Chestertown, Maryland, Verenigde Staten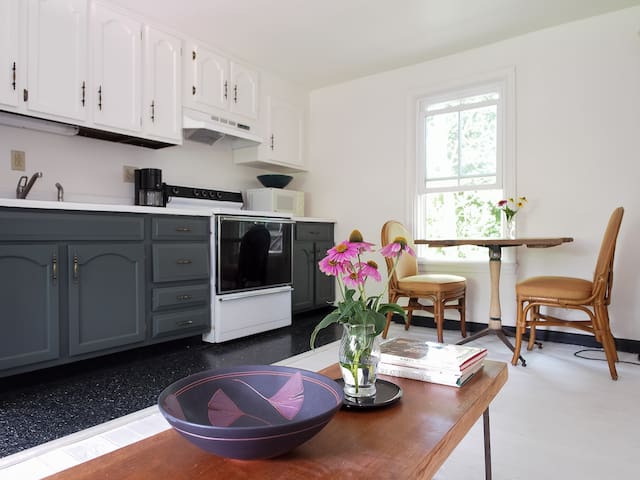 Your home was perfect for our needs. Thanks so much for allowing us to stay. Your home was better than we deserve.
Ron
2015-09-18T00:00:00Z
We enjoyed our stay for 2 nights !!! Quite apartment and well kept !!! There was smoke smell at the entrance (while standing outside on the door) but rest was great !!! Good price and a good place to visit !!!
Pankaj
2015-08-24T00:00:00Z
Overall had a great visit! And carol was very helpful and nice.
Kyley
2015-09-08T00:00:00Z
Carol was very responsive and it was easy to check in and out. She also gave us very accurate directions to her place. The apartment itself is modest, but basically what is described in the listing. Thanks for everything.
Sarah
2016-08-15T00:00:00Z
Carol was super helpful in correspondence before and during our stay. The apartment was clean, quiet, and convieniently located near the wedding I attended. Parking was super easy too. Thanks Carol!
Hannah
2016-10-09T00:00:00Z
Carol's apartment was a nice pleasant suburban experience for us while we visited Lancaster and the surrounding Amish country. Thanks for letting us stay, Carol
peter
2016-09-06T00:00:00Z
The host canceled this reservation 44 days before arrival. This is an automated posting.
Andrew
2015-06-03T00:00:00Z
Great value for the price! Great service too! Carol gave us very helpful directions so it didn't take us too much time to find the place. It's great to have some home cooked meal when we are far away from home.
Linda
2016-06-06T00:00:00Z
Kamertype
Gehele woning/appartement
---
Type woning
Appartement
---
Geschikt voor
5
---
Slaapkamers
Lancaster, Pennsylvania, Verenigde Staten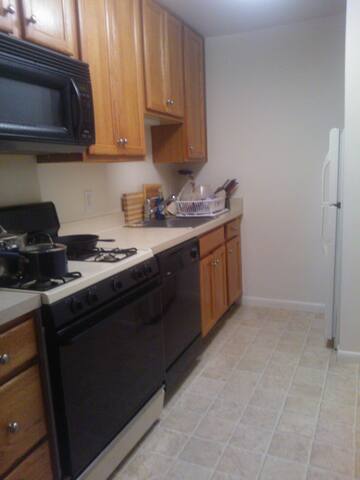 Fully appointed one bedroom apartment three blocks from North Charles Street. Light rail stop at our door with easy access to rail and airlines. 24 hour front desk, gym, free parking.
Secure access-controlled entrance Gated reserved parking for residents and guests Beautifully landscaped outdoor courtyard Spacious entertainment and activity room 24-hour exercise room with latest fitness equipment 24-hour front desk attendant On-site maintenance and On-call emergency maintenance staff Resident Manager
Chesapeake Commons remains an outstanding architectural achievement in Baltimore's West Side Renaissance. Bordering the historic neighborhoods of Seton Hill and prestigious Mt. Vernon, Chesapeake Commons is ideally situated amidst the city's premier cultural and education institutions and attractions
returning guest. another amazing stay.
Emily
2016-09-30T00:00:00Z
John responded quickly to all inquiries. Pictures did not do the place justice. It was clean and spacious. The property itself featured additional amenities to make this stay awesome. Also, 10 minutes from the inner Harbour. Receiptionist was very welcoming and provided a list of recommended eateries that were fabulous. I was able to connect my Apple TV to the wifi for a fast connection. Overall this was a great experience and I will definitely return if ever in the area.
Miya
2016-09-18T00:00:00Z
This was my first time at an Airbnb... What an excellent first experience. Communication was great. The residence & parking was secure. We really enjoyed ourselves.
Lynn
2016-09-11T00:00:00Z
The host and front desk staff were both extremely responsive, attentive, and friendly! They accommodated an early parking request and were able to help me check in even late at night. Very smooth process! The room itself was beautiful, comfortable, and had all the amenities you would expect. Definitely a great place to stay!
William
2016-12-11T00:00:00Z
I Had a magnificent stay at johns place. I stayed for 3weeks. 24h front desk available, very helpful and nice. Clean, tidy, noise free, less than a minute walk to light rail. Gated community with valet service. Gym, working area, parking available. I would highly recommend it. And would stay there if i visit again.
Jamal
2016-11-24T00:00:00Z
This apartment really embodied the idea of feeling "at home" somewhere. It's a big, lovely apartment with a great kitchen, cozy living room area, and a quiet bedroom. I appreciated being able to make my breakfast in the morning and curl up on the couch in the evenings. The front desk folks were friendly and even had a great list of local recommendations. I was attending a conference in the convention center and found it very easy to take the light rail or even walk (about 15+ minutes) to the center. Fell's Point and Federal Hill neighborhoods were just about a $7 Lyft/Uber away. The apartment is part of a nicely restored building and has a cute little dog park right outside. The area seems to be right on the edge of revitalization. I did feel safe riding the light rail back at night since the station was literally across the street and well-lit.
Lauren
2017-03-25T00:00:00Z
very clean and spacious. check in process is easy. Gated parking is safe and secure. overall highly recommend
Emily
2016-09-23T00:00:00Z
We enjoyed our stay. The place is extremely secure and the front desk was very helpful. An uber was $6 to the Harbor or Fleets Landing. Both can be walked as well. The room was spacious and clean.
Todd
2016-10-18T00:00:00Z
Kamertype
Gehele woning/appartement
---
Type woning
Appartement
---
Geschikt voor
2
---
Slaapkamers
Baltimore, Maryland, Verenigde Staten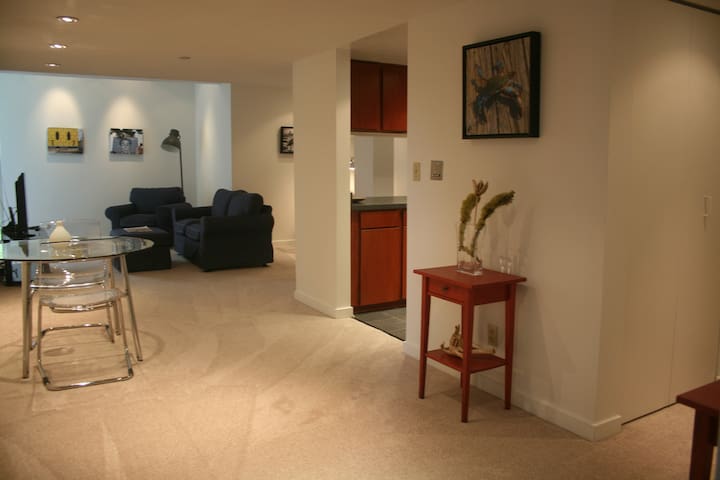 Located in central city Baltimore, you will be close to everything the city has to offer. Walking distance to many cafes, bars, restaurants, and shops. Next to Penn station, great for commuters and travelers. The apartment is a spacious 1 bedroom and offers a new memory foam mattress, fully equipped kitchen, outdoor patio, closet space, and everything you might need to enjoy your stay. I do not have cable TV, however there is an HTMI cable to hook up your laptop.
Good: - The host was very nice. They are very flexible and generous to satisfy my demands. - I had a comfortable stay. The apartment is spacious. Especially, I like the bed covered by clean sheets. - Quiet area. There is a very nice, cool bar next to the Light Rail station. Not good: - I got lost when I first tried to get there from the Light Rail station, although I used (SENSITIVE CONTENTS HIDDEN) Map. - Sometimes I hear noise from the next door and a floor creaking from upstairs. I wasn't bothered much.
Shino
2017-02-26T00:00:00Z
Very nice place, comfortable bed and great zen atmosphere.
Dan
2017-02-28T00:00:00Z
Stayed for a few days for a job interview. The apartment for the price is great value. There is no wifi when I stayed but you can piggyback off the little cafe downstairs just fine. Super close to Penn Station and not a bad walk to the light rail or downtown. I would stay again.
Daryl
2017-02-10T00:00:00Z
Comfortable and spacious, stocked with toothbrushes and water. Very friendly and accessible hostess. Would totally stay again.
Camille
2017-02-05T00:00:00Z
Great location near the bus station and cheap public parking. The hosts were very helpful and accomodating even when the weather delayed our arrival past midnight. We highly recommend this spot!
Danielle
2017-04-02T00:00:00Z
Stay was great and super accessible. Check in and check out were flexible and easy to manage.
Erin
2017-03-03T00:00:00Z
Happy with my stay. Spacious place, (SENSITIVE CONTENTS HIDDEN) ChromeCast worked nicely. Convenient closed-in porch to people-watch. Climate control is easy and awesome, bathroom was sufficient.
Pat
2017-04-08T00:00:00Z
good communication. bathtub needs replacement, was not clean
Bart
2017-01-27T00:00:00Z
Kamertype
Gehele woning/appartement
---
Type woning
Appartement
---
Geschikt voor
2
---
Slaapkamers
Baltimore, Maryland, Verenigde Staten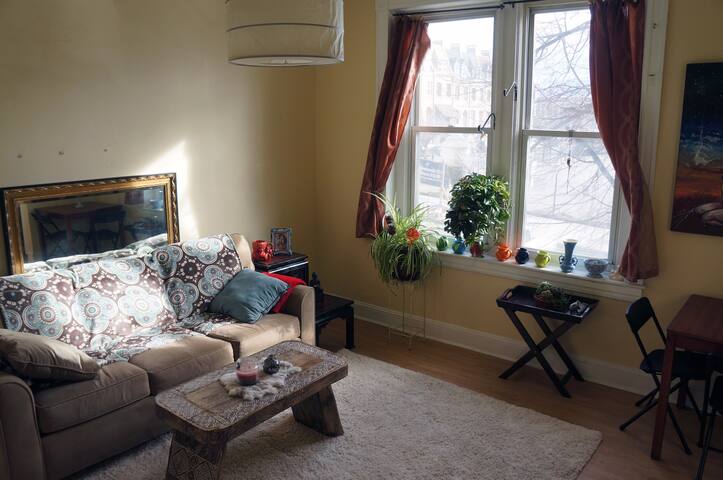 The Wellness house is a place you retreat in its healing ambiance will have you relaxed it feels like home to everyone who visit. Its located in the heart of historic Bolton Hill in a safe neighborhood filled with beautiful landscapes and historical architectural features. Very close to M|I|C/A, Horseshoe Casino, Baltimore Ravens Stadium, Inner Harbor, Museums, Fine dinning restaurants, bars and several parks. Five minutes from Penn station, you'll be in DC in 45 mins. There is street parking.
Your Large bedroom features a vintage non working fireplace, large windows that receive beautiful natural light, if your a person who does not enjoy natural light don't worry we have nice ceiling to floor curtains that will take care of that. Your room has hardwood floors thoughout and 12ft ceilings with original details also a nice wingback chair and TV with DVD player. There are Two Twin size beds in the room I also have a queen size air bed available for an extra person that would be $15.00 dollars per night that would be added to the regular fee per night.
Bolton Hill, only 1.5 miles from Baltimore's world-famous Inner Harbor, and 2 miles from Camden Yards and Ravens Stadium, is a premier neighborhood of about nine blocks by five blocks. The community, consisting of approximately 2,000 residents and several shops, has a rich history and a bright future. Bolton Hill's elegant 19th century row houses set among tree-lined streets and deep, leafy gardens qualified the neighborhood for placement on the National Register of Historic Places. Several enclaves of award-winning contemporary town homes and parks blend with the classic architecture of the larger 19th century community. New Orleans-style balconies are fragrant with flowers and parks with fountains and sculptures are alive with neighbors, art students, dog walkers, and joggers. Bolton Hill overlooks the monuments, church steeples, and skyscrapers of Baltimore's downtown. As part of the Baltimore Cultural District, Bolton Hill is within walking distance of the Meyerhoff Symphony Hall, Lyric Opera House, University of Baltimore, Maryland Institute College of Art, and Theatre Project. Neighboring Mt. Vernon with the Enoch Pratt Free Library, Walters Art Gallery, Peabody Conservatory, Antique Row, more shops, and restaurants is a ten minute walk away. Public transportation includes a light rail Cultural Center stop on Howard Street, the State Center subway stop on Dolphin, a five-minute walk to Penn Station, and a 20 minute drive to BWI airport, as well as City transit buses along the periphery of the neighborhood.
I enjoyed my stay at The Wellness House. Like Arona previously mentioned in a review - it's definitely an eclectic and positive environment. It was very close to MICA which was great because I was a visiting a friend at the school and I was able to safely walk back and forth to the school and coffee shops nearby. Princess was very courteous and friendly. And I would definitely stay here again. My only suggestions would be for her to state in the description that she has a cat - a very beautiful, fun and loving cat by the way - as well as that the guest room has two twin beds. These are clear in her photos, but I didn't remember seeing the cat photo (so if i was deathly allergic to cats i would've been surprised) and I also thought i'd be sleeping in a queen bed (which after investigating the photos again i realized it was just both of the twins side by side.) Those we're thankfully very minor details to me but felt it'd be better to bring them up than not. Thanks again Princess! You helped me enjoy my first stay in Baltimore that much more.
Caleb
2017-02-12T00:00:00Z
Princess was really nice and helpful. Everything was super clean and well decorated. The beds were comfortable. We didn't use public transport so I don't know what the connection is like. But we only paid 6$ for an Uber to Inner Harbor. There's also a nice cafe nearby (Cafe on the Hill) where you can get breakfast.
Cheyenne
2017-03-20T00:00:00Z
It is a large apartment in an elegant home. Princess was very easy to communicate with regarding check in. You will share a bathroom, kitchen and living area with her. The neighborhood is relatively quiet, but not really that convenient to restaurants and other amenities, though there is a grocery store and pharmacy on the way to Bolton Hill and MICA.
Robert
2017-04-09T00:00:00Z
I stayed at Princess's for two nights when I was in Baltimore for a conference. I wanted a clean reasonably-priced place with a reliable host in an area where I could easily navigate my way downtown, and Princess's was perfect! She was really friendly and flexible (even when my flight got changed and my arrival ended up being later than planned). Her place was really clean and smelled amazing from all the incense and essential oils. I recommend this to anyone who wants a relaxing and quiet place to hang their hat in Baltimore. Thank you Princess!
Blase
2017-03-25T00:00:00Z
LOVED this stay! Princess was the best and the room was nothing short of the description. Thanks again!
Zachary
2017-02-26T00:00:00Z
The wellness house is very clean eclectic and positive environment. I will definitely stay here again and recommend it for others
Arona
2017-01-29T00:00:00Z
Great location for the money.
Chuthachinee
2017-04-03T00:00:00Z
Beautiful home ... Princess has been a very nice host ... Would definitely go there again ...This would be the place I will have in mind when I need a quiet getaway to unwind...
Anusha
2017-03-28T00:00:00Z
Kamertype
Privé Kamer
---
Type woning
Appartement
---
Geschikt voor
3
---
Slaapkamers
Baltimore, Maryland, Verenigde Staten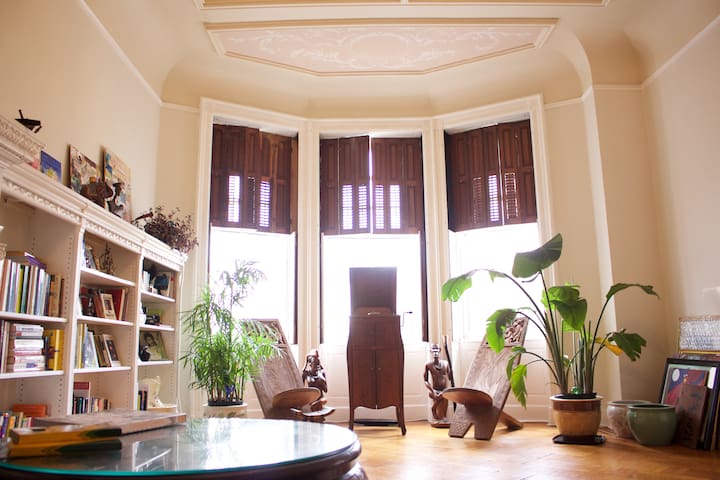 1

–

18

van

300+ Appartementen te Huur
Voer datums in om de volledige tariefopbouw te zien. Er kunnen extra kosten zijn en er kunnen belastingen worden toegevoegd.