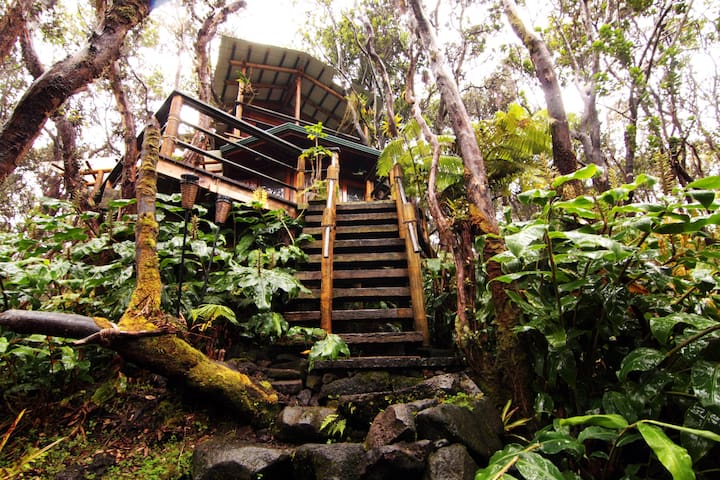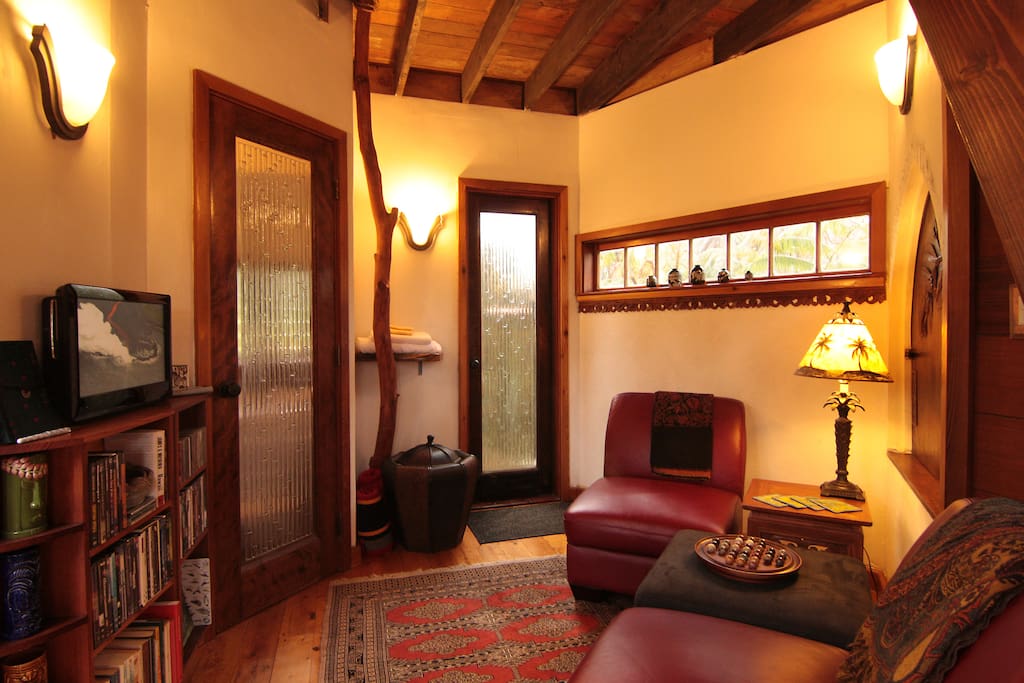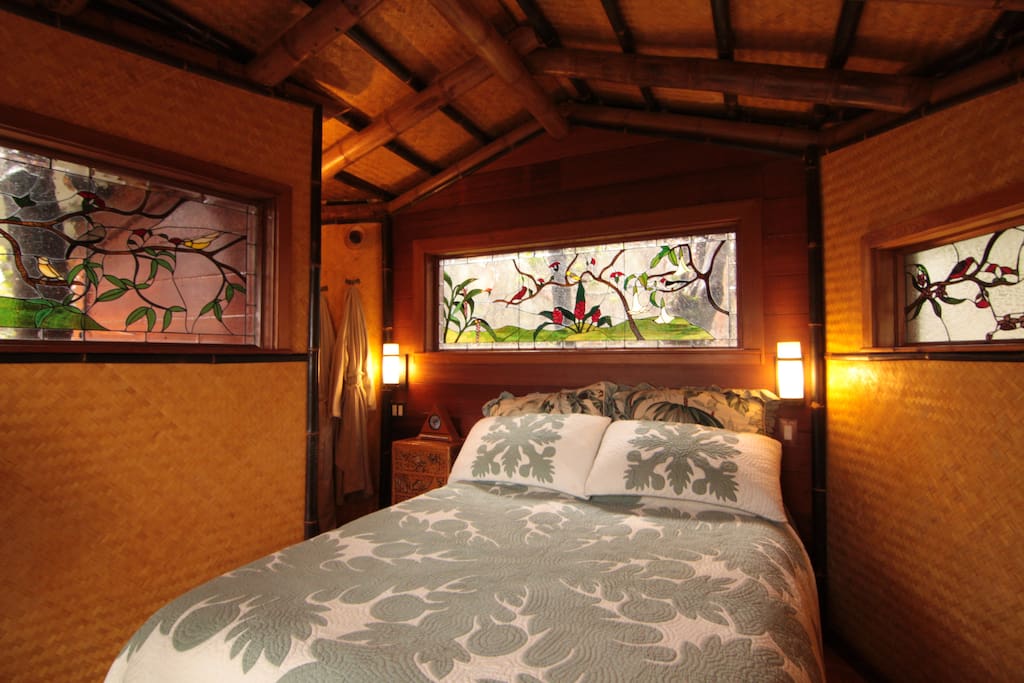 Het boomhuis is verstopt in het regenwoud, op minder dan vijf minuten van de ingang van het Hawaii Volcanoes National Park. Het heeft twee niveaus, twee lanaisjes, zelfs een bubbelbad in de bomen. Het bed heeft net een verjonging ondergaan en is weer super comfortabel. U kunt uren doorbrengen in de bovenste luifel, tussen de honeycreepers die door lehua-bloemen flitsen, en genieten onder de sterren die door de bladeren of in de vulkaan mist blikken. #we aanvaarden
The treehouse is tucked away in the rainforest, less than five minutes from the entrance to Hawaii Volcanoes National Park. It has two levels, two lanais, even a hot tub up in the trees. The bed has just undergone a rejuvenation and is back to being super comfortable. You can spend hours in the upper canopy, amidst the honeycreepers flitting through lehua flowers, and soak under the stars winking through the leaves or in the volcano mist. #weaccept
De ruimte
Dit is een op maat ontworpen boomhut, gebouwd door dezelfde crew die u in Treehouse Masters op tv ziet. De juraanse houding van het regenwoud wordt bewaard op het terrein. We hebben ook een trouwlocatie in de buurt waar u in de foto's kunt bekijken. Onze vulkanen zijn nu in een spectaculaire fase. Uitzicht op de topuitbarsting ligt op vijf minuten rijden. Om de rivieren van lava te zien, rijd je in het park en in de berg. Mahinui Na Lani hangt in ohia bomen die groeien over een lava buis in het regenwoud dat zich uitstrekt tot het Hawaii Volcanoes National Park. Het boomhuis werd opgevat als een metgezel aan ons regenwoudpaviljoen, een Bali-stijlstructuur, een paar blokken verderop, bedoeld als een intieme trouwlocatie. Beide kunnen gereserveerd worden, en er zijn een paar foto's van het paviljoen opgenomen in deze serie. De boomhut is toegankelijk via een pad dat ongeveer 100 kronkelende voeten in het bos, lava keien in de kant van de lava buis, en ladders. De stijging is iets steil als je de lava rotsen bereikt. Voor uw veiligheid en comfort, bieden we dagpakken om over te dragen welke kleding u nodig heeft voor uw verblijf van uw bagage naar de woonplaats. Er is een speciale inbouwhoek, gewijd aan uw spullen, met haken voor kleding, en een paar nachten staat met laden die minder omvangrijke items kunnen bevatten. Het is Hawaii, en het klimaat is mild, de sfeer overal erg casual. Wij bieden ook badjassen aan. Het boomhuis zelf is gebouwd op twee niveaus, verbonden via een ladder van een schip. Het hoofdniveau omvat de woonkamer, met twee stoelen en een ottoman, flatscreen voor het bekijken van films en cd's, ingebouwde binnenruittafel en stoelen, kleine keuken, buitendouche en composterings toilet en ijdelheid. De overdekte open haard is een Jotul-propaanfornuis naar buiten. Buiten op de Lanai is er een cederbad, een teakhouten tafel en stoelen voor al fresco dineren in de bomen. Het bovenste niveau is ook bovenste luifel, met vogels die er soms onder je heen vliegen. Er is een queen size bed met een memory foam matras, de kleine "kast hoek" en een andere Lanai. De andere ramen dan de franse deuren op de lanai zijn gebrandschilderd glas, gemaakt door een lokale kunstenaar. Het huis werd voornamelijk gebouwd uit gerecycleerde materialen. De granietvloer- en roodhout- en cederhoutzijden waren eens een kerk. Dit bijzondere gebied grenst aan het Hawaii Volcanoes National Park, waar Kilauea al decennia actief is geweest. Er zijn wandelpaden in en rond het park door regenwoud, woestijn, vulkaanverwoesting, zelfs een pad met voetafdrukken die meer dan honderd jaar geleden door een uitbarsting zijn behouden. Er zijn petrogliefen. Minder dan een mijl van het boomhuis is er vulkaan dorp, met restaurants en kunstgalerijen, een paar plaatsen om gas te kopen. Het ingangspark zelf ligt ongeveer twee mijl verderop. De wijk is regenwoud, met veel ongebouwd op veel. De reden dat er geen uitzicht is op het boomhuis door het bos is omdat het regenwoud zeer dicht is. Er is de vloer, zeer jungly met gember, inheemse varens en bomen. Mid-canopy zijn de boomvarens, ongeveer twintig meter lang en meer dan honderd jaar oud. De bovenste luifel is een mix van ohia bomen met rode lehua bloemen, Hawaiiaanse hulst, en anderen. We worden van tijd tot tijd gevraagd of meer dan twee personen in het boomhuis kunnen blijven. We kunnen vooral begrijpen dat families hun kinderen graag willen delen om deze ervaring te delen. Het boomhuis is een tweepersoons ruimte. Alles is ontworpen om een honeymoon ervaring te zijn. Hoewel het mogelijk is dat meer dan twee mensen samen zitten en chatten, kunnen er maar twee slapen. Er is geen opklapbaar bed, er is ook geen ruimte voor een of ander meubilair dan wat er al is. Hall of Fame: Het boomhuis is in Extreme Cribs opgenomen, op episode 13. De Ellen Show: Tropische vakantie van Kim Douglas Ke Ola Magazine Volcano Tree House verhaal in juli - augustus 2011 editie Trip Advisor: Een van de tien meest romantische plaatsen om te verblijven (globale selecties) PureWow-functie Boomhutten van de Wereld, Reeks Kanaal Europees segment, door Treehouse Masters serie Buzzfeed Blogs en nieuwsberichten wereldwijd gepubliceerd U heeft toegang tot het gehele pand, inclusief de kleine structuur onder het boomhuis dichtbij waar u uw auto parkeert. U kunt uw bagage veilig in die kamer vergrendelen en de dagverpakkingen gebruiken tijdens uw verblijf. Als u een CPAP-machine gebruikt, neem dan contact met ons op voor een reservering. Er is maar één boomhuis op het terrein. We wonen in de buurt en komen regelmatig door om het boomhuis te onderhouden. Het is waarschijnlijk dat u bij aankomst u zal ontmoeten. Anders zijn wij beschikbaar via de telefoon, de tekst, de e-mail. Wanneer We zijn weg, iemand anders die lokaal woont, zal beschikbaar zijn om u te begroeten en te verzorgen voor uw behoeften. Het boomhuis vereist dagelijkse aandacht omdat het uit het raster is. Dit gebeurt over het algemeen tussen 11.00 en 16.00 uur, en de meeste gasten zijn voor dat gedeelte van de dag weg. We vragen dat als u de hele dag bij het boomhuis blijft, dat u met ons communiceert om ons te laten weten wanneer een van ons opkomt en zorgt voor de plaats. De wijk is meestal oude groei regenwoud met een paar huizen hier en daar. Als je opritt, merk je dat er buren over de straat en naast de deur liggen. Je zal ze vergeten als je door de moongate loopt en de wereld van het boomhuis binnentreedt. Soms laat vanmiddag en avond een lokale hula halau horen. Wij hopen dat u de geluiden van gelach en Hawaïaanse taal en muziek vindt bij de sfeer. Een huurauto is een noodzaak. Terwijl er openbaar vervoer is, is het langzaam langzaam omhoog de berg. Het park ligt een paar kilometer onderweg, en zo groot wil je rijden en niet proberen te lopen. Volcano Village is ongeveer een mijl op de weg. U kunt graag op en terug wandelen. Als u naar het dorp voor het eten gaat, is een zaklamp voor uw terugkomst een absolute must. Wij bieden - neem het alsjeblieft mee! Als u een eerste reis naar ons eiland plannen, raden wij u aan 2 of 3 nachten in het boomhuis te blijven. Neem contact met ons op voor bespreking voordat u reserveert als u dat wenst. Het eiland is echt groot, en de meeste mensen zouden liever de nacht doorbrengen op de westkant van het eiland, in plaats van terug te keren naar vulkaan na een dag van spel daar. Hoewel we tarieven voor langdurig verblijf tonen, willen we plannen met u bespreken voor het afronden van een verblijf van 5 dagen of langer. Als u besluit dat u bij het boomhuis wilt blijven, komt u op een plaats in tegenstelling tot andere. Er zijn andere boomhutten, maar elk is uniek. Dit boomhuis is uit het raster. Dit betekent dat elke dag dagelijks onderhoud nodig heeft. Voor de meeste mensen is dit een naadloos ding dat gebeurt terwijl ze af avontuurlijk zijn. Elke keer komen er mensen en willen ze helemaal niet verlaten. We begrijpen het, maar we willen u laten weten dat we dagelijks naar het boomhuis moeten gaan om het composterings toilet te bedienen. De hot tub vereist ook aandacht. Het boomhuis is in het bos. Het is in de bomen, en dit betekent makkelijke toegang tot critter. Om ze buiten te houden, dragen we je afval weg en zorgt u ervoor dat uw voedsel adequaat opgeslagen wordt. Het is niet goed om ongewaste gerechten, potten en pannen te verlaten, om dezelfde redenen. Spinnen zijn inwoners van het bos. Ze zijn voedsel voor de vogels. Als u van de vogels houdt, gelieve hun voedselvoorraad te tolereren. We laten het huis van spinnen dagelijks leeg, maar we vergiftigen niet. De spinnen komen willekeurig terug. Ze zijn klein, en blijven in de hoeken. Zij laten bewijzen van hun bezoek in de vorm van webs. Wij doen ons best om onnodig voor hen te zijn, maar ze blijven volhouden. Als er weer is, zoals harde regen en winden, van je baars in de bomen, beleef je het geluid en voel je op een manier die je niet eerder hebt. Het huis is strak - het weer komt niet in als de deuren en ramen zijn gesloten. Maar de geluiden kunnen formidabel zijn. Je voelt zich dicht bij de natuur. Vanwege de grootte van het boomhuis en het feit dat het uit het raster is, is het niet mogelijk om een regelmatige keuken aan te bieden. Er is geen oven, maar er is een magnetron. Er is een kookplaat. Er is geen vaatwasser. Om op fijne gerechten in de kleine keuken te creëren is een uitdaging die geen hoeveelheid speciaal kookgerei kan aanpakken. De opslagruimte is onvoldoende voor meer dan een paar dagen aan voedselvoorziening. We zijn in het proces van het opknappen van deze kookervaring naar iets wat meer boomboomachtig is, een betere pasvorm met de off-line ervaring. Dus tegen het moment dat je aankomt, zal het anders zijn dan het vandaag is. En ten slotte, met betrekking tot de hot tub. Het prijsstelling voor de verhuur van boomhutten is zoals het gedeeltelijk is vanwege de hot tub-eisen.
This is a custom designed treehouse, built by the same crew you see in Treehouse Masters on TV. The Jurassic attitude of the rainforest is preserved on the grounds. We also have a wedding venue nearby you may view in the photos. Our volcanoes are in a spectacular phase just now. Views of the summit eruption are a five minute drive away. To see the rivers of lava, you drive into the park and down the mountain.
Mahinui Na Lani hangs in ohia trees growing over a lava tube in the rainforest that extends into Hawaii Volcanoes National Park. The treehouse was conceived as a companion to our rainforest pavilion, a Bali style structure a couple of blocks away, intended as an intimate wedding venue. Both may be reserved, and there are a couple of photos of the pavilion included in this series.
The treehouse is accessed via a path that is about 100 meandering feet in the forest, lava boulders set into the side of the lava tube, and ladders. The ascent is somewhat steep once you reach the lava rocks. For your safety and comfort, we provide day packs to transfer whatever clothing is needed for your stay from your luggage into the abode. There is a special recessed corner dedicated to your stuff, with hooks for clothes, and a couple of night stands with drawers that can hold less bulky items. It's Hawaii, and the climate is mild, the atmosphere everywhere very casual. We also provide bathrobes.
The treehouse itself is built on two levels, connected via a ship's ladder. The main level includes the living room, with two chairs and an ottoman, flat screen for viewing films & playing CDs, built in indoor window table & stools, small kitchen, outdoor shower, and composting toilet & vanity. The indoor fireplace is a Jotul propane stove vented to the outside. Outdoors on the lanai there is a cedar hot tub, and a teak table and chairs for al fresco dining in the trees. The upper level is also upper canopy, with birds actually flying around beneath you sometimes. There is a queen sized bed with a memory foam mattress, the tiny "closet corner" and another lanai. The windows other than the french doors onto the lanai are stained glass, made by a local artist.
The house was built primarily of recycled materials. The fir floors and redwood and cedar siding were once a church.
This particular area is adjacent to Hawaii Volcanoes National Park, where Kilauea has been active for decades. There are hiking trails in and around the park through rainforest, desert, volcanic devastation, even a path with footprints preserved from an eruption over a hundred years ago. There are petroglyphs. Less than a mile from the treehouse there is Volcano Village, with restaurants and art galleries, a couple of places to buy gas. The entrance park itself is about two miles away. The neighborhood is rainforest, with many unbuilt upon lots. The reason there is no view of the treehouse through the forest is because the rainforest is very dense. There is the floor, very jungly with ginger, native ferns, and trees. Mid canopy are the tree ferns, some twenty feet tall, and over a hundred years old. The upper canopy is a mixture of ohia trees with red lehua flowers, Hawaiian holly, and others.
We are asked from time to time if more than two people can stay in the treehouse. We can especially understand that families would like to bring their children to share this experience. The treehouse is a two person space. Everything is designed to be a honeymoon experience. While it is possible for more than two people to sit together and chat, only two can sleep over. There is no rollaway bed, nor is there room for one or for any other furniture beyond what is there already.
Hall of Fame:
The treehouse has been featured in Extreme Cribs, on episode 13.
The Ellen Show: Kim Douglas's Tropical Vacation
Ke Ola Magazine Volcano Tree House story in July - August 2011 edition

Trip Advisor: One of the Ten Most Romantic Places to Stay (global selections)
PureWow feature
Treehouses of the World, Travel Channel European segment, by Treehouse Masters series
Buzzfeed
blogs and news articles published globally
You will have access to the entire property, including the small structure below the treehouse near where you park your car. You may safely lock your luggage inside that room and use the day packs inside during your stay.
If you use a CPAP machine, please contact us prior to making a reservation.
There is only one treehouse on the property.
We live nearby and come by regularly to maintain the treehouse. It is likely we will meet you on arrival. Otherwise, we are available by cell phone, text, email. When we are away, someone else who lives locally will be available to greet you and take care of your needs. The treehouse requires daily attention because it is off grid. This is generally done between 11 am and 4 pm, and most guests are away for that portion of the day. We do ask that if you are staying all day at the treehouse, that you communicate with us to let us know when one of us can come up and take care of the place.
The neighborhood is mostly old growth rainforest with a few houses here and there. When you drive up, you will notice there are neighbors across the street and next door. You will forget about them once you walk through the moongate and enter the world of the treehouse. Sometimes of a late afternoon and evening you may hear a local hula halau practicing. We hope you find the sounds of laughter and Hawaiian language and music adds to the ambience.
A rental car is a necessity. While there is public transportation, it is long slow trip up the mountain. The park is a couple of miles down the road, and so large you will want to drive and not attempt to walk. Volcano Village is about a mile up the road. You might like to stroll up and back. If walking into the village for dinner, a flashlight for your return is an absolute must. We provide - please take it with you!
If you are planning a first trip to our island, we suggest that you stay 2 or 3 nights at the treehouse. Please contact us for for discussion before you reserve if you wish. The island is truly big, and most people would rather spend the night on the west side of the island rather than return to Volcano after a day of play over there. Although we show rates for long term stays, we would like to discuss plans with you before completion of a stay of 5 days or longer.
When you decide you want to stay at the treehouse, you are coming to a place unlike any other. There are other treehouses, but each is unique. This treehouse is off grid. This means it requires hands on service, every day. For most people, this is a seamless thing that happens while they are off adventuring. Every once in awhile, people come and do not want to leave, at all. We understand, but we do want to let you know that we must enter the treehouse on a daily basis to service the composting toilet. The hot tub also requires attention.
The treehouse is in the forest. It is inside the trees, and this means easy critter access. To keep them outside, we carry your rubbish away and make sure your food is stored adequately. It is not a good idea to leave unwashed dishes, pots and pans, for these same reasons.
Spiders are residents of the forest. They are food for the birds. If you love the birds, please tolerate their food supply. We empty the house of spiders daily but we do not poison. The spiders come back at will. They are small, and stay in the corners. They leave evidence of their visit in the form of webs. We do our best to be inhospitable to them, but they persist.
When there is weather, like hard rains and winds, from your perch in the trees you will experience the sound and feel in ways you may have not before. The house is tight - the weather does not enter if the doors and windows are closed. But the sounds can be formidable. You will feel close to nature.
Because of the size of the treehouse and the fact that it is off grid, it is not possible to offer a regular kitchen. There is no oven, but there is a microwave. There is a hotplate. There is no dishwasher. To create full on gourmet meals in the little kitchen is a challenge that no amount of special cookware can address. The storage space is inadequate for more than a couple of days worth of food supplies. We are in the process of revamping this cooking experience to something a little more treehouse-like, a better fit with the off grid experience. So by the time you arrive, it will be different than it is today.
And finally, regarding the hot tub. The price point for the treehouse rental is as it is in part because of the hot tub requirements.
Toegang voor gasten
Er is een beveiligde schuur aan de onderkant van het pand waar u uw bagage kan vergrendelen. Het boomhuis is alleen van jou. We komen er voor om het te bedienen als u langer dan één nacht verblijft, maar u kunt minstens een paar dagen volledig privacy vragen en nooit vertrekken als dat uw wens is.
There is a secure shed at the bottom of the property where you can lock up your luggage. The treehouse is yours alone. We do come to service it if you stay more than one night, but you can request complete privacy for at least couple of days and never leave if that is your wish.
Interactie met gasten
Een van ons is altijd in de buurt om te helpen indien nodig.
One of us is always nearby to assist as needed.
Andere dingen waar je op moet letten
Tax IDs: TA-020-255-1296-01 & GE-020-255-1296-01
Airbnb at this time does not have any line item charge for taxes and we are obligated to pay them. Our tax rate is 13.42%
Every once in awhile we are asked to provide extra bedding. This would be a futon, pillow, sheets and blankets. There is a $25 fee for this. Please ask in advance so we can have it there for you.
From time to time there are conditions present that are directly related to the location of the treehouse. When you choose to stay here, please know that conditions such as wild life visitations, the actions of the volcano itself, and weather are beyond our control. Please do not expect or request refunds for conditions beyond our control.
Ondersteunt Belofte voor Leefbaar Loon
Mensen die de accommodatie van deze verhuurder schoonmaken, krijgen een leefbaar loon.
Meer informatie
Communiceer altijd via Airbnb
Maak nooit geld over en communiceer nooit buiten de Airbnb-website of app, om je betaling te beschermen.
Slaapkamer 1
1 queensize bed
Niet geschikt voor huisdieren
Geen feestjes of evenementen
Niet veilig of geschikt voor kinderen (0 - 12 jaar)
Inchecktijd is 16:00 - 18:00
Zelf-inchecken met keypad
We ask that you let us know when you will arrive so we can meet you and show you how everything works. The 4 pm to 6 pm check in window is set up both to make that meeting possible and to get you into the treehouse before dark. It is more adventurous than most people like to find your way up there for the very first time in the dark, even with the headlamps and path lights.
Note regarding events and parties: Any events or parties are to be discussed and arranged in advance. We have a dedicated event venue separate from the treehouse. Generally speaking, no guests or persons other than those named in the reservation are expected to come to the treehouse during your stay. Please ask if you have any questions about this, and please honor it. Mahalos.
Children accompanying parents must be discussed in advance of the reservation being accepted.
A word about fees:
In addition to the room charges, there is Hawaii tax of 13.42% effective 2010. Tax payment will be due prior to treehouse access. We will bill you for this as a separate payment as if we roll it into the price, it affects our tax liability. This tax goes up to 14.42% in January 2018.
If you require extra bedding, there is a charge of $25 to bring in a futon, sheets, pillow, and blankets.
There is no smoking inside or outside the treehouse. Thank you for respecting this.
WiFi is available for your use. As we are charged by the GB, we offer you one GB at no charge. After first GB, we charge as we are charged, $10 per GB or portion thereof.
Should you need to change your reservation, we will work with you to find a time that will work. If you are making your change within 3 months of your reservation, there will be a change fee of $100 per night if we cannot re-book your dates. If a second change is requested, there will be a $200 rebooking fee in addition to the $100 per night fee if applicable. A third change will require a new booking and new charges.
Occasionally there is a misunderstanding as to the dates of the reservation, and guests are gone on a hike or a cross island drive during normal check out time. If this should happen to you, here is the protocol:
We will contact you through Airbnb, and via your cell phone if possible. Airbnb will be alerted, and they too will try to contact you. If there is a guest due after you on the same check out date, and you have not returned to remove your things by 1 pm Hawaii time, they will be removed and stored in a safe place, and you will be charged a removal fee equal of half the cost of a night at the treehouse. We will also attempt to find you another place to stay locally, so you need not worry about having nowhere to go. If there is no guest due after you, Airbnb will be asked to charge you a second night if you have not cleared out by 4 pm, and your things will be left in place. For guests who simply linger on without having arranged a late check out, expect a late fee through Airbnb. We try to accommodate all requests, but cannot always say "yes" to late departures and early arrivals.
Je erkent ook
Trappen klimmen is onvermijdelijk - Stairs are ladders, require hands free for ascent and descent from treehouse
Volcano, Hawaii, Verenigde Staten
Lid sinds september 2010
Aloha. My husband Robert and I offer a Big Island wedding destination near Hawaii Volcanoes National Park. We offer a full service wedding, with everything from the conch shell blowing to the honeymoon at the treehouse, and photography too.

We have two property locations. One contains the treehouse, and the other the wedding pavilion and main house. The main house can serve to stage the wedding and it is also where we live.

For the photography, we go to places on the island that are particularly photogenic. We offer this service to both those who married with us and those who are married elsewhere and come to the Big Island to honeymoon.

For an up close and personal view of what we do, you may visit us online at Rainforest Weddings on Face book. There you will find photos, updates on what is going on here on the island, and comments from people who have been married at Mahinui Na Lani. Mahinui Na Lani has been featured on MTV Extreme Cribs, the Ellen Show, and as the Most Romantic Date ever on The treehouse was featured on the Today Show, and has been written up in Keola Magazine. Forbes has mentioned it in an article about our builder, Roderick Romero.

We also work with other amazing Big Island venues if you are looking for a larger wedding celebration.

We welcome any travelers who are seeking a wonderful place to stay on the Big Island. Aloha!
Responscijfers:
100%
Responstijd:
binnen een uur
Vergelijkbare advertenties
Ontdek andere opties in en rondom Volcano
Meer plekken om te verblijven in Volcano: