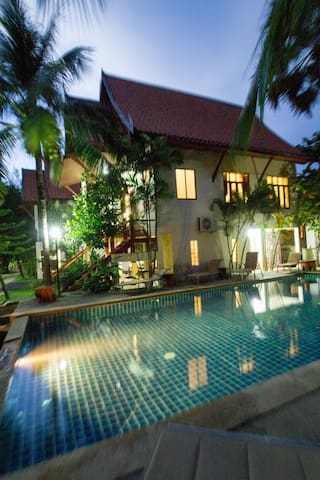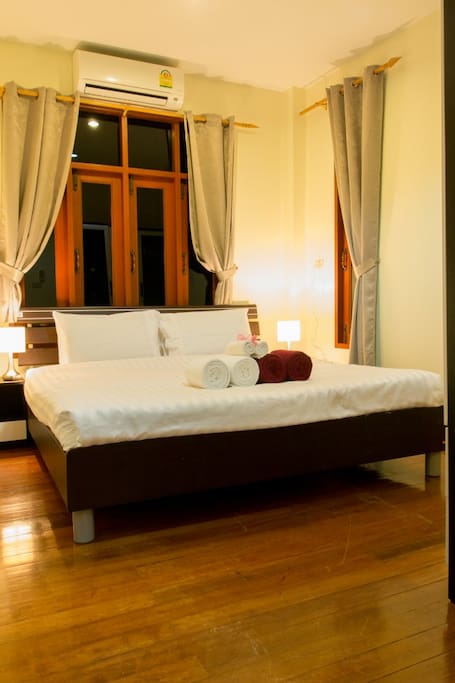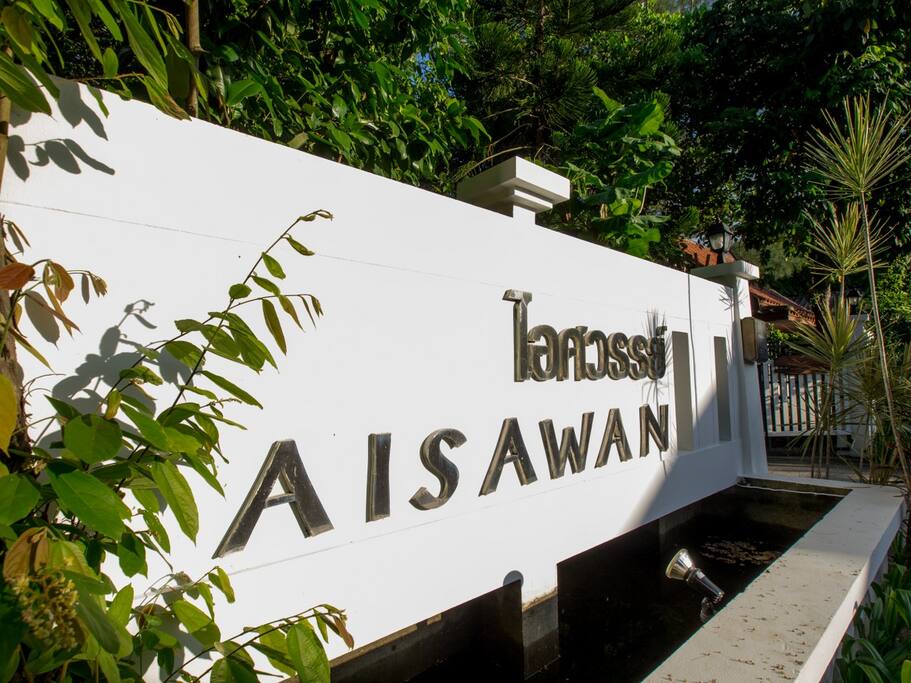 Mijn villa ligt dicht bij het strand, het lokale dorp, winkels, massage winkels, bars en vele restaurants en op 25 minuten van Patong Central & Airport. U zult van mijn plaats houden vanwege de kwaliteit van onze service, de nabijheid van het strand en het dorp, het ontspannende gevoel, ons personeel, de omliggende natuur, het uitzicht op de bergen, de ligging, de mensen in het dorp etc. Mijn plaats is goed voor koppels, solo avonturiers, zakenreizigers, gezinnen met kinderen en grote groepen.
My villa is close to The beach, the local village, convenience stores, massage shops, bars and many restaurants and 25 minutes from Patong central & the airport.
You'll love my place because of the quality of our service, the proximity to the beach and village, the relaxation feeling, our staff, the surrounding nature, the mountain views, the location, the people in the village etc.
My place is good for couples, solo adventurers, business travellers, families with kids and large groups.
De ruimte
Beste vriend, Hier zijn enkele extra punten over onze aanbieding en diensten. Bedankt voor de tijd om onze vermelding te lezen en misschien een boekingsaanvraag te maken. Mag ik alstublieft vragen dat u alstublieft de onderstaande informatie leest alvorens mij een vraag te stellen, aangezien u vindt dat veel van uw vragen al kunnen worden beantwoord in wat wij u hier vertellen. Bedankt. Deze prachtige 4 slaapkamer villa is gebouwd in een kleine ontwikkeling bestaande uit 4 identieke villa's en ligt op slechts 100 meter van het prachtige Bang Tao-strand en op 25 minuten rijden van de luchthaven van Phuket en Patong Central. De villa is gelegen in een mooie rustige omgeving met uitzicht op de omliggende bergen vanaf het bovenste verdieping balkon dat is toegankelijk vanaf de hoofd lounge, slaapkamer en buiten trap. Het pand heeft onlangs een klein makeover ondergaan met een nieuwe keuken geïnstalleerd die geschikt is voor maximaal 10 gasten tegelijk. Er is een buiten eethoek met barbecue en zitgelegenheid en ligt op slechts een paar minuten lopen van mini-markten, bars, massage winkels, vis spa's, conventionele spa's, kunstgaleries, restaurants en nog veel meer. Het dichtstbijzijnde restaurant ligt op ongeveer 50 meter van de villa en is geopend van ongeveer 7 uur, serveert ontbijt en vele andere gerechten tot ongeveer 12.00 uur en sluit niet door de dag. Er zijn meer dan 30 bars en restaurants in het dorp en meer op het strand, waar u Halal eten, Westelijk eten, Indisch eten, Thais eten en nog veel meer kunt serveren. Autoverhuur, motorfiets- en fietsverhuur, rondleidingen en reizen worden allemaal door ons en als lokale bevolking geregeld; we zijn er trots op dat we volledig flexibel zijn als er extra behoeften en eisen zijn. Autoverhuurkosten starten vanaf 1.000 baht per dag, afhankelijk van het model van de auto en het seizoen. Auto's zijn Toyota Yaris, Toyota Vios, Chevrolet 7-ziters, BMW X4, Audi TT, Mercedes E Class en meer. Deze zijn allemaal voorzien van volledige verzekering. Een prive-chauffeur voor maximaal 12 personen in een minibus kan geregeld worden voor 3.000 baht voor een full day sight seeing van 8 uur. Gelieve ons alstublieft op de hoogte te stellen als u een van deze diensten nodig hebt, omdat wij u een reservering moeten maken. Voor ons zijn wij onze vrienden niet alleen klanten en zullen wij ons best doen om uw vakantie zo bijzonder mogelijk te maken met onze hulp, zonder opdringerig te zijn. Onze jarenlange ervaring en het aanbieden van meer dan 3.000 klanten hebben ons veel geleerd. Het belangrijkste is dat we begrijpen dat nee 2 sets gasten en gezinnen hetzelfde zijn als de laatste, elk wordt behandeld als een nieuwe vriend met nieuwe behoeften en verlangens voor hun reis. Daarom vragen we bij het maken van een onderzoek dat we vragen dat u wat onderzoek doet wat u wilt doen en te zien in Phuket en wij zullen het voor u uitzoeken. We kunnen dagen en activiteiten voor u plannen zonder enig probleem, maar we hebben een algemeen idee nodig van wat u wilt van uw ervaring in Phuket. Bijvoorbeeld, een gezin met kleine kinderen gaat geen ATV- en white water rafting-ervaring nodig hebben, terwijl ook een groep jonge afgestudeerden waarschijnlijk geen dag in een avontuurpark van kinderen wil. Populaire activiteiten omvatten 1) Eilandtochten per boot - Phi Phi, Maya Bay, Coral Island, Similan Islands, Khai Islands, James Bond Island 2) Nacht en dag visreizen 3) Avontuurlijke activiteiten zoals ATV-paardrijden en white water rafting 4) Olifant Tracking in de jungle 5) Uitstapjes naar aap tempels 6) Reizen naar traditionele Thaise tempels 7) Privé-chaufferdagen rond Phuket - inclusief kanovaren, olifantsporen, uitstapjes naar de watervallen, tempelbezoeken, kooklessen, aapshows, slangenshow, Big Buddha etc. 8) Safari-uitstapjes 9) Phuket Fantasea Show & Simon Cabaret show 10) Bezoeken aan de parelfabriek 11) Phuket vogelpark 12) Phuket Water Park 13) Phuket Zoo 14) Duiken cursussen 15) Jetski, Para zeilen. Wake boarding en andere watersporten / watersporten We kunnen al het bovenstaande voor u of voor aankomst aanschaffen en aanzienlijke kortingen ontvangen van de brochuresprijzen van ons zusbedrijf. Onze meiden komen elke 3 dagen schoon indien nodig en zijn dagelijks omgaan met andere zaken. Am is de villa manager en samen met mezelf en onze medewerkers, zorgt u goed voor de controle in de fase. Ik woon ook lokaal en ben heel vaak rond voor klanten om ervoor te zorgen dat alles goed is en je bent blij. Als er problemen zijn, dan is er altijd iemand die u kan helpen, meestal binnen een paar minuten. We zijn altijd beschikbaar voor onze gasten. Vanaf het moment dat u landt of aankomt in Phuket, hebben we onze chauffeur u van het vliegveld verzameld, zodat er geen complicaties of zorgen zijn bij aankomst. Onze chauffeurs zijn 24 uur per dag beschikbaar, ongeacht hoe laat u aankomt, we hebben iemand om u te verzamelen en in te checken. Zodra u ons vluchtgegevens heeft gegeven, zorgen we voor u voor de rest. U wordt verteld wat de naam van de chauffeur is en hij houdt een bord aan de buitenkant van de luchthaven terminal met de naam IN ENGLISH (als uw airbnb naam is in een andere taal geschreven, geef ons dan uw ENGLISH Spelling van de naam aan, zodat het ons gemakkelijker kan zijn om het teken te schrijven). U krijgt contactgegevens in geval van nood. De chauffeur brengt u dan naar de accommodatie waar een medewerker van mij zal zijn om u te ontmoeten. U krijgt dan de cheque in het papierwerk door de incheckpersoneel, die een paar belangrijke dingen zal vragen, zoals wanneer u een schoonmaakservice nodig heeft, welke tijd wilt u uitchecken, eventuele andere eisen en u krijgt ook de meter lezen voor de utilities. Bij het uitchecken krijgt u een andere lezing door de check-out medewerkers. Als u laat in de nacht of na een zeer lange vlucht aankomt, begrijpen we dat u moe bent en moet rusten. Dit is natuurlijk goed en we zeggen gewoon dat we je de volgende dag zullen zien om ervoor te zorgen dat je alles goed begrijpt en goed bent. Er zal dan de gelegenheid zijn om waarschijnlijk met Am te praten over activiteiten of excursies die u wilt regelen. We kunnen een plan voor u voor uw vakantie opstellen en de bal rollen met het organiseren van alles voor u. Wij zijn lokale mensen dus zijn altijd aan bellen. Wij zijn niet beschikbaar na 22.00 uur tot 08.00 uur, maar altijd beschikbaar per telefoon gedurende tussen de uren en zullen u binnen de dag altijd terugkomen. Wij leven binnen 5 minuten van al onze villa's en appartementen, dus in het gebied kan het over enkele minuten gebeuren als er een noodgeval optreedt. We raden mensen aan om telefonische apps te gebruiken, zodat de kosten van het bellen etc. uit zowel uw facturen als onze facturen kunnen worden uitgeroeid. Am is erg geïnteresseerd in LINE en (SENSITIVE CONTENTS HIDDEN), zodat we mensen zouden aanmoedigen om deze apps te downloaden voordat ze aankomen zodat communicatie vanaf het begin makkelijk is. Wij streven ernaar onze gasten zo fantastisch mogelijk te blijven, met al onze hulp, kennis en wijsheid, vaak met u mee eten voor het diner en u de lokale locaties laten zien als dat zo is wat u van ons wilt. Op dezelfde manier zijn we ver van indringende maar altijd beschikbaar. Water en elektriciteit is niet inbegrepen om de gasten aan te moedigen om op het verbruik van airco te besparen. Het is erg goedkoop en de meter wordt gelezen bij het inchecken en uitchecken. Dit maakt ons niet zorgen, maar we doen dit gewoon, omdat veel mensen het appartement met alle aircons verlaten in de ochtend en 's nachts terugkomen, het is gewoon om mensen aan te moedigen om een beetje meer verantwoordelijk te zijn zodat we de goedkope kosten kunnen doorgeven aan de klanten in de toekomst Wij bieden ook luchthaven transfers, maar vragen dat gasten de chauffeur direct betalen. De toeslag bedraagt 1.000 baht voor een minibus (12 personen) en 800 baht voor een luxe 4x4 die geschikt is voor 7 personen. Wij beschikken over baby veiligheidszitjes, dus vraag dit zo nodig indien nodig. Er is geen toeslag voor een babyveiligheidszitje bij luchthavenvervoer, maar als klanten dit op particuliere chauffeurs nodig hebben, moeten we ze huren en worden ze 150 baht per dag in rekening gebracht. Niet roken binnen maar veel ruimte buiten. Alsjeblieft, kom gewoon, heb een geweldige tijd en natuurlijk de regels en culturen van het Koninkrijk Thailand. Houd rekening met andere gasten bij het gebruik van het zwembad en de faciliteiten. Onnodig geluid laat 's nachts is niet toegestaan. Bliss beach club waar onze vriend de manager is en goed voor u zorgt, ligt op ongeveer 500 meter van de villa en we krijgen goede kortingen op vele restaurants en faciliteiten in de omgeving omdat we lokale mensen zijn. Rondrijden is heel makkelijk. We kunnen vrijwel alles organiseren vanuit een simpele motor, auto of zelfs een particuliere chauffeur. Taxi's zijn ook op zeer korte termijn beschikbaar. Andere dingen om op te merken. 1) Wees extra aandacht aan onze punten over gasten die betalen voor nutsbedrijven. 2) De vermelding vertelt u de maximaal toegestane personen in de villa of appartement. Probeer ons niet te bedriegen om ons te bedenken voor het maximale bedrag en dan meer dan wat u ons vertelt. We laten de boeking gewoon niet doorgaan. Wees eerlijk met ons over nummers, enz. 3) Wees zeer bewust dat hoewel we flexibel kunnen zijn of inchecken en uitchecken, drukke tijden van het jaar, kunnen we dit niet altijd doen. Als je ar bent
Dear Friend,
Here are some additional points about our listing and services.
Thank you for taking the time to read our listing and perhaps make a booking enquiry. May i kindly ask that you please read all of the information provided below before asking me any questions as you will find that many of your questions may already be answered in what we tell you here. Thanks.
This beautiful 4 bedroom villa built is in a small development consisting of 4 identical villas and is just 100 meters from the amazing (some say the finest) Bang Tao beach and a 25 minute drive from Phuket airport and Patong central.
The villa is set in a beautiful peaceful setting with views of the surrounding mountains from the upper level balcony that is accessed from the main lounge, master bedroom and outside staircase.
The property has recently undergone a small makeover with a new kitchen installed to cater for up to 10 guests at a time. There is an outside dining area with BBQ area and seating and is just a few minutes' walk from mini markets, bars, massage shops, fish spa's, conventional spa's, art galleries, restaurants and much more.
The closest restaurant is about 50 meters to the villa and is open from about 7am, serving breakfast and many other foods until about 12 midnight and does not shut throughout the day. There are in excess of 30 bars and restaurants in the village and more on the beach, serving Halal food, Western Food, Indian food, Thai Food and much more.
Car rent, motorbike and bicycle rent, tours and trips are all arranged through us and as local people; we pride ourselves on being totally flexible if there are additional needs and requirements.

Car rental fees start from 1,000 baht per day depending on the model of the car and season. Cars include Toyota Yaris, Toyota Vios, Chevrolet 7 seater, BMW X4, Audi TT, Mercedes E Class and more. These all come with full insurance.

A private driver for up to 12 people in a minibus can be arrange for 3,000 baht for a full days sight seeing of 8 hours. Please inform us beforehand if you require any of these services as we will need to make a reservation for you.

To us you are our friend's not just customers and we'll do our best to make your holiday as special as we can with our help, without being intrusive.
Our years of experience and of hosting more than 3,000 customers have taught us many things. Most importantly we understand that no 2 sets of guests and families are the same as the last, each one is treated as a new friend with new needs and desires for their trip.
Therefore, we ask when making an enquiry we ask that you do a bit of research into what it is you want to do and see in Phuket and we will sort it out for you. We can plan days and activities for you without any hassle at all but we need a general idea of what you want from your experience in Phuket. For example, a family with small kids is not going to want an ATV and white water rafting experience, whilst similarly a group of young graduates is probably not going to want a day out at a children's adventure park.
Popular activities include
1)Island trips by boat – Phi Phi, Maya Bay, Coral Island, Similan Islands, Khai Islands, James Bond Island
2)Night and day fishing trips
3)Adventure activities like ATV riding and White water rafting
4)Elephant Tracking in the jungle
5)Trips to monkey temples
6)Trips to traditional Thai temples
7)Private driver days around Phuket – includes Canoeing, elephant tracking, trips to the waterfalls, temple visits, cooking class, monkey show, snake show, Big Buddha etc.
8)Safari trips
9)Phuket Fantasea Show & Simon Cabaret show
10)Visits to Pearl factory
11)Phuket bird park
12)Phuket water Park
13)Phuket Zoo
14)Scuba diving courses
15)Jet skiing, Para sailing. Wake boarding and other water and beach water sports/activities
We can orgnise all of the above for you either before or when you arrive and get significant discounts off the brochure prices from our sister company.
Our maids come to clean every 3 days if required and are around daily to deal with any other matters.
Am is the villa manager and along with myself and our staff, will take good care of you right from the check in stage. I live locally too and am very often around for customers to make sure everything is ok and you are happy. If there are any problems, there is always somebody to hand to assist you, normally within a few minutes.
We are always available for our guests. Right from the moment you land or arrive in Phuket we have our driver collect you from the airport so there are no complications or worries on arrival. Our drivers are available 24 hours a day so no matter what time you arrive, we have somebody to collect you and check you in.
Once you have given us your flight details we will take care of the rest for you.
You will be told what the drivers name is and he will be holding a sign board outside the main airport terminal with the name IN ENGLISH (if
your airbnb name is written in another language please supply us with your ENGLISH Spelling of the name to make it easier for us to write the sign).
You will be given contact details in the case of emergency. The driver will then take you to the accommodation where a member of my staff will be there to meet you. You will then be given the check in paperwork by the check in staff which will ask a few important things such as when do you require maid service, what time do you wish to check out, any other requirements and you will also be given the meter reading for the utilities. On check out you will be given another reading by the check-out staff.
If you arrive late at night or after a very long flight, we understand that you may be tired and need to rest. This is of course fine and we just say that we will come and see you the following day to ensure you fully understand things and are ok.
There will then be the opportunity to talk to probably Am about any activities or excursions you want to arrange – we can come up with a plan for you for your holiday and get the ball rolling with organizing it all for you.
We are local people so are always on call. We are not available after 10pm - 8am but always available by telephone during in between hours and will always get back to you within the day. We live within 5 minutes of all of our villas and apartments so if in the area can generally come within a matter of minutes if an emergency arises.
We very much encourage people to use telephone apps so that the costs of calling etc. can be eradicated from both your bills and our bills. Am is very keen on LINE and (SENSITIVE CONTENTS HIDDEN) so we would encourage people to download these apps before they arrive so that communication is easy from the start.
We aim to make our guests stay as fantastic as possible, offering all our help, knowledge and wisdom, often going with you for dinner and showing you the local sites if that's what you want from us. By the same token we are far from intrusive but always available.

Water and electricity is not included to encourage guests to save on aircon consumption. It is very cheap and the meter is read on check in and check out. This is nothing to worry about but we just do this as many people will leave the apartment with all aircons left on in the morning and return at night so it is just to encourage people to be a bit more responsible so we can pass the cheap costs on to the customers in the future
We also provide airport transfers but ask that guests pay the driver directly. The fee is 1,000 baht for a minibus (12 people) and 800 baht for a luxury 4X4 that fits 7 people. We have baby safety seats available so please request this if needed. There is no charge for a baby safety seat on airport transfers but if customers need this on private drivers, we have to rent them in and they are charged at 150 baht per day.
No smoking inside but plenty of space outside. Please just come, have a great time and respect of course the rules and cultures of the Kingdom of Thailand.
Please respect other guests when using the swimming pool and facilities. Unnecessary noise late at night is not allowed.

Bliss beach club where our friend is the manager and will take good care of you is about 500 meters from the villa and we can get good discounts on many restaurants and facilities in the local area because we are local people.
Getting around is very easy. We can organize pretty much anything from a simple motorbike, car or even a private driver. Taxis are available at very short notice also.

Other things to note.
1) Please pay special attention to our points about guests paying for utilities.
2) The listing will tell you the maximum allowed people in the villa or apartment. Please do not try to cheat fool us into booking for the maximum amount and then turning up with more than what you tell us. We simply won't allow the booking to proceed. Please be honest with us about numbers etc.
3) Be very conscious that although we can be flexible or check in and check out times, busy times of the year we may not always be able to do this. If you are arriving on a very early morning flight, for your own comfort and relaxation we would strongly urge you to book for the night that you are arriving so you can arrive at the accommodation for early check in, relax, sleep and start your holiday feeling nice and refreshed.
4) Driving licenses are not required in Thailand to rent vehicles. Passports are enough to secure rental vehicles.
5) Visas can be gained on arrival into Phuket. If you are staying for less than 45 days in Thailand a visa on arrival is perfectly acceptable. This is free of charge.
6) International travellers. Please note, when booking flights ALL budget airlines go from Don Mueang International Airport in Bangkok. You will probably arrive at Suvarnabhumi International airport.
DM airport is about 1 hours' drive away and at the end of a long flight is a really tiring and tedious experience, especially if travelling with kids. My recommendation would be to go direct to Thai Airways website and book Thai air. They DO NOT charge for baggage up to 30kg, depart from Suvarnabhumi, have an inflight nice meal and cut out all the hassle of changing airports etc. They are a tiny bit more expensive but believe me, for somebody who travels long haul several times a year between Europe and Phuket, it is very much worth the extra few $s to save the pain.
7) Once you have got your flight details please send us all information and total numbers. If you are part of a large group and travelling separately please send the group leaders name for the airport signboard. Your driver will have a sign outside the main building with your name clearly visible.
8) All towels (including beach) and bed linen is provided by us. Please bring your own insect repellants and sun tab lotions. We do not provide any lotions such as these.
9) Baby chairs and cots can be provided for families with young children at no additional cost. Please inform us if these are required.
10) If you require things at the villa for early morning / late night check in such as beer, breakfast material etc, please inform us when you tell us your flight details. Our staff will happily get these at the apartment / villa for you so you can settle in and not have to worry about shopping trips. Please note there is a 300 baht (plus of course the groceries bill) fee for this service.
11) Please pay all taxi drivers their fares directly and not to any other staff member in cash.
12) Each villa or apartment has a staff tip box. Our staff do a fantastic job for above average salaries but of course often have big families to feed and school so are always grateful for any tips. This also makes them feel more valued and comfortable that they feel they have done a good job for you.
We very much welcome your questions should you feel there is something I have maybe missed in this listing.
Address: Villa 2 - Aisawan Villas - Bang Tao Beach - Cherngtalay - Thalang District - 83110 Phuket
My LINE APP ID is woodism if you want to talk to me about anything. If you need to contact me privately this is the only way you can really do it before a booking is made. For all enquiries about the properties though, please just keep to the airbnb website.
Communiceer altijd via Airbnb
Maak nooit geld over en communiceer nooit buiten de Airbnb-website of app, om je betaling te beschermen.
Slaapkamer 1
1 kingsize bed
Slaapkamer 2
1 kingsize bed, 1 slaapbank
Slaapkamer 3
2 eenpersoonsbedden, 1 slaapbank
Slaapkamer 4
1 kingsize bed
Gemeenschappelijke ruimtes
2 slaapbanken
Niet geschikt voor huisdieren
Inchecken kan op elk moment na 15:00
- no smoking inside the actual villa but outside is ok.
Hi, I live in Phuket and am originally from the UK.

I have lived in Phuket (always in the same village Bang Tao) for 11 years now after originally working as an investment adviser in the city of London.

At 29 years old i just thought 'what on earth am i doing this for....gotta be more out there to see' and so there was. I came to Phuket and for a couple of years didn't do a great deal but travel, explore some options and started to get a feel for what i really wanted to do.

I had renovated and over seen my own property renovations in London and loved every part of it. From seeing an uninhabitable bin turn out into something incredible, cool and really worthy of being called a home i decided this was where i wanted to be and what i wanted to do.

I met some incredible people along the way who are still friends and who now work for me and i wouldn't change a lot of it for the world. I always feel i made the right decision, even on testing days, the days when i have that passing thought we sometimes all get 'sod this for a game of soldiers' ;-)

I have an amazing team of people around me who not only do a fantastic job for the customers but make me proud of what we have all created together. Some i have worked with from the start and i genuinely believe they are happy.....they show it in their clocking in, seeing them around the village during work hours on their bikes smiling and when we have our get-together BBQ's and staff parties etc.

They are warm hearted people who would genuinely do anything for anybody if treated with the respect they deserve.

Am is my direct Operations Director and Villa / Apartment manager and responsible for all of the staff and customers needs. She is really the one who is dealing with anything people need either before, during and sometimes after they have vacated the property and left something behind that may need posting etc.

She's lively, funny, golden hearted and a pleasure to work with and customers just love her because of her very endearing qualities. She's great with kids, knows how to get things done and always willing to go the extra step to make sure people have the best experience with us that they possibly can.

We've built up a very strong company together, all by understanding our jobs and playing our part in the success. I admit we are not perfect but we always try to do the right thing by people and our customers and our 500 reviews are testimony to that, with only a few negative......of which we take on board and always try to put right.

We hope you like our villas & Apartments, our reviews and make an enquiry about one of our many places with the intention of booking and one day meeting us all.

Thanks for reading and best wishes.

Lee, Am & The Team
Responscijfers:
99%
Responstijd:
binnen een uur
Vergelijkbare advertenties
Ontdek andere opties in en rondom Choeng Thale
Meer plekken om te verblijven in Choeng Thale: